Support For Taxi Driver After Cab Smashed In Nottingham
9 July 2018, 09:17 | Updated: 9 July 2018, 10:00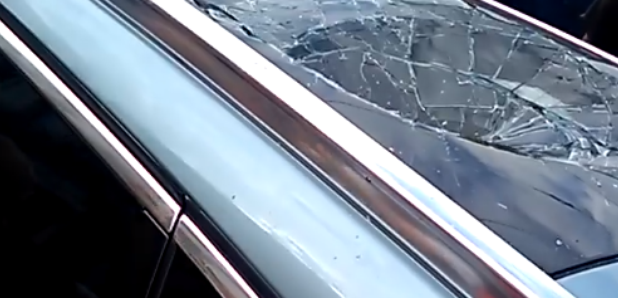 £1,000's has been raised for a Nottingham taxi driver whose cab was smashed up as England fans celebrated the World Cup quarter final win over Sweden.
A number of JustGiving pages have been set up online to raise money to help the driver, who works with Nottingham Cars, as he won't be able to work whilst his car is repaired and examined by police.
Charlie Reason from Long Eaton, set up a page after seeing the videos of fans on social media after the match. She told Capital: "It was supposed to be a time when the whole country came together in celebration. BuIt it just ruined it for everyone else and turned it into something awful.
"I can't understand how someone can do that to another human being.
"I wanted to show the taxi driver that there are decent people out there. And many want to support him. Those that did the damage are just the minority."
Her fund can be found here.
Charlie says she's been in touch with the taxi driver, and says he is uninjured and thankful to those who are supporting him.
His firm, Nottingham Cars, released a statement on Facebook:
"It is truly the messages of support and concern from our wonderful Nottingham community that have moved us and we have passed them all on to the driver.
"He is quite shaken up but thankfully not injured - although his poor car will be out of action for a while (we'll see what we can do to help him out on that side of things!).
"Some amazing people have even set up justgiving pages for the driver which really speaks volumes to what an amazing community we are all part of in Nottingham. Thank you to you all, from the bottom of our hearts."
Nottinghamshire Police have arrested a 27-year-old man in connection with the damage to a taxi.
A number of other arrests were made for public order offences.
The force says plans are in place to police the city centre ahead of Wednesday's semi-final match against Croatia.
Chief Inspector Simon Allardice said: "The vast majority of people enjoyed Saturday's celebrations safely and these incidents relate to a select number of people who took things too far."
"We want people to enjoy this momentous occasion but safely and with respect for others.
"We ask people who are out for the event on Wednesday to consider their actions, particularly when the sun is shining and alcohol is involved, and be mindful that there will be an increased police presence.
"It's completely unacceptable for a handful of people to ruin the celebrations for others and we won't tolerate this sort of behaviour in Nottingham."