Sports Direct Chairman Steps Down
12 September 2018, 11:03 | Updated: 12 September 2018, 11:06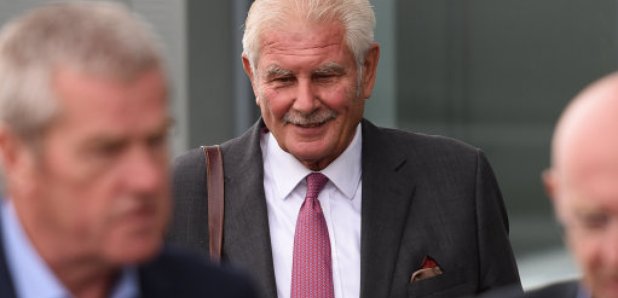 Derbyshire-based Sports Direct chairman Keith Hellawell has said he will step down from the company, ending a controversial nine-year tenure in the role.
Mr Hellawell will retire with immediate effect following Wednesday's annual meeting and will be replaced by non-executive director David Daly.
Chief executive Mike Ashley said: "I would like to thank Keith and Simon for their valuable service and significant contributions to the company over the years."
Mr Hellawell, a former West Yorkshire Police chief constable and government drugs tsar, fielded criticism after allegations of poor working conditions at the retailer's warehouse in Shirebrook came to light.
His approach to corporate governance has also come under fire and at last year's AGM he narrowly survived a re-election vote when 47% of investors voted against him.
Influential advisory groups had urged shareholders to oppose his re-election again, saying because he had lost shareholder confidence and failed to appoint any women directors to the board.
"Having overseen significant improvements in the working practices and corporate governance of the company, which includes a refresh of the board, now is the right time for me to step aside," Mr Hellawell said on Wednesday.
"I have every confidence that the group will continue to go from strength to strength. I have enjoyed the challenges of Sports Direct and the support of Mike Ashley; many major investors; members of the board and senior staff, and wish them much success for the future."
Senior non-executive director and former Blacks Leisure Group boss Simon Bentley is to also retire after 11 years on the board.
Nicola Frampton, who is managing director of bookie William Hill's UK retail division, will join the board next month.
Meanwhile, Sports Direct also said it is on track to meet expectations in the current year, as the retailer gears up for its annual meeting.
The sporting goods firm announced earlier on Wednesday morning that it is set to achieve between 5% and 15% growth in underlying earnings, excluding the recent £90 million acquisition of House of Fraser.
Neil Wilson, chief market analyst at Markets.com, said of the trading update: "It's not unkind to suggest that a 10 percentage point spread is an absolute barn door of a target and it would have been a big surprise had it missed."
He added that there are still unanswered questions about the impact of the House of Fraser acquisition on Sports Direct shareholders
Shares in Sports Direct were 3.7% higher in early trading on Wednesday at 353.6p, regaining ground after a High Court ruling pushed shares lower on Tuesday.
On Tuesday a High Court judge struck a blow to Sports Direct in its battle with the Financial Reporting Council (FRC).
The company was ordered to produce a number of documents relating to its 2016 financial statements to aid the FRC's investigation into auditing firm Grant Thornton.
But Sports Direct said it plans to appeal "aspects of the judgment in due course".