Police Start Work In Nottinghamshire's Schools To Tackle Knife Crime
8 June 2018, 13:14 | Updated: 8 June 2018, 13:26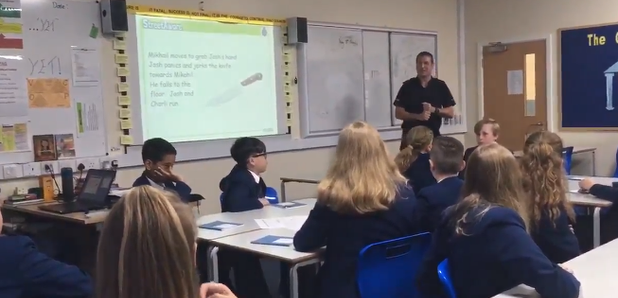 Capital's been told it's vital young schoolchildren learn about the dangers of knife crime.
A new project's starting in Nottinghamshire that sees dedicated police officers working in schools across the county to lead lessons and discussions about the issue.
Three are starting work with 12 schools across the county. Another eight will start working with them in September, Nottinghamshire Police say, if a trial into this goes well.
The new project is starting as police have told us about investigations into at least 24 stabbings across the county. 1 of those resulted in a 17-year-old's death. Lyrico Steede died in hospital days after suffering stab wounds in Bulwell.
Nottinghamshire Police Chief Constable Craig Guildford said: "I am a strong advocate of preventative local policing which is fundamentally aimed at offending, safeguarding young people, promoting their personal development, offering choice rather than stark direction, and above all working to prevent young people entering the criminal justice system.
"I genuinely believe that having police officers within the school environment focusing on prevention and early intervention is the way forward for effectively engaging our young people and helping teachers in what has become an increasingly challenging vocation.
"Academic research concludes that having dedicated police officers within a school environment offers lasting benefits not only for the young people themselves, but also for local communities, schools and the police.
"Whilst many people often see the enforcement and reassurance side of our work when we make arrests and carry out patrols, they may not be aware that in the background we are also working very hard to make a difference through education. The Schools and Early Intervention Officers are an example of this preventative work. I believe they can play a big part in helping to reduce violence and helping young people across Nottinghamshire make positive life choices for years to come."
Nottinghamshire Police and Crime Commissioner Paddy Tipping said: "I am delighted that the Chief Constable is reintroducing police officers back into all Nottinghamshire secondary schools.
"We need to focus on young people. They both commit crime and are victims of crime. Building respect between the police and pupils is vital. At the end of the day we need to recognise that young people are all our futures and we need to invest in them."
Lessons have been taking place in Year 8 classes at Gedling's Carlton-le-Willows school.
.@nottspolice are at Carlton le Willows in #Gedling today giving a workshop to year 8 students on knife crime. #CapitalReports pic.twitter.com/J0zLTOwLgb

— CapitalEastMids News (@CapitalEMNews) June 8, 2018
Deputy Head Chris Turner, of Carlton le Willows Academy, Gedling, said: "We feel that external speakers are a vital part of our delivery to children and our young people appreciate the credibility that Paul brings to the school. We believe students genuinely appreciate developing the knowledge, understanding and tools they need to navigate the world around them. The Police have also offered training for parents recently regarding cyber safety, which was particularly well received.
"As a regular visitor to school, always in uniform, Paul has become a familiar face to the young people. Always very keen to talk to individuals, Paul is an approachable and friendly character. I feel this has fostered positive relationships in school and the local community and has helped to highlight the positive work of the police.
"Children are part of a world that is changing at a rate that adults never experienced. Early intervention helps young people to make well-informed decisions, which we hope will have a positive impact on their future and support their aspirations for success as they move into adulthood."