Nottinghamshire Gay Priest To Appeal Employment Tribunal Decision
6 November 2015, 06:12 | Updated: 30 March 2016, 13:50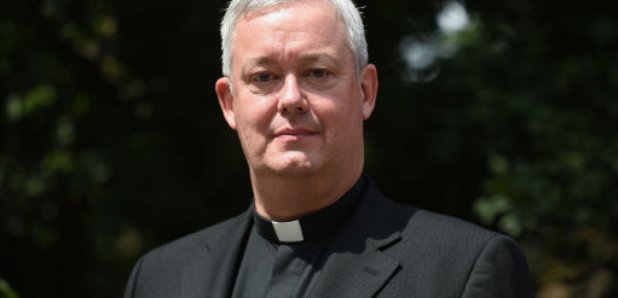 A gay priest from Nottinghamshire who is appealing an employment tribunal decision which upheld the Church of England's values on married serving members has told Capital he knows of other couples who are "scared" of their Bishops.
Canon Jeremy Pemberton, of Southwell, was told he could not be recruited as a chaplain at Kings Mill Hospital, Sutton-in-Ashfield, on the basis that he had married his partner.
This week, he lost an employment tribunal which ruled he was not discriminated against by a former acting bishop of Southwell and Nottingham.
In the 58-page judgement, the panel also dismissed a claim of harassment made against the former acting Bishop of Southwell and Nottingham, the Rt Revd Richard Inwood.
Canon Pemberton, who had his permission to officiate revoked after marrying his partner in April 2014, had alleged that the Church of England's stance on same-sex marriage breached the 2010 Equality Act.
He is appealing the decision, and claims he is doing so to help other members of the Church who are gay and afraid of being public.
"There are only two clergy who are publicly married, but I know of a number of couples who married secretly, because they're so afraid of what their Bishops will do if they found out.
"Lesbian and gay members have not been accepted, they've been tolerated as long as they keep their heads down and get on with it. Well, I don't think that's right, this is 2015. The Church needs to move with the times.
"If I was in any other profession it wouldn't have gotten this far. No HR department in any organisation would dare do to me what the Bishop did to me as it would be against the law. The Church has exemptions, which to me, is the thing that needs to change."
The case was brought up in a Parliament debate by gay Labour MP Ben Bradshaw, who asked Caroline Spelman MP, representing the Church Commissioners, how much money the Church had spent on the employment tribunal.
Ms Spelman said she was unable to answer because "this is still litigation in progress'' and the claimant could appeal against the decision.
Mr Bradshaw told the House of Commons: "I very much hope he does appeal.
"Do we not have a right as members of the Church of England to know exactly how much our church has spent in our name to persecute this excellent priest who has been stopped from being a hospital chaplain, a job by all accounts he did superbly, because of the discriminatory approach of the Church of England, particularly when we are celebrating the election in a democratic election of the first openly gay married priest to the General Synod?
"It is a ridiculous situation.''
Commenting on the tribunal's decision, a spokesperson for the Diocese of Southwell and Nottingham said: "We are thankful to the tribunal for its work on this complex case and for its findings in favour of the Rt Revd Richard Inwood, on all the claims made against him.
"We recognise that it has been a long and difficult process for all concerned, and we continue to hold them in our thoughts and prayers.
"Churches across the diocese continue to offer a generous welcome to people from all backgrounds.
"We remain engaged in the on-going shared conversations across the wider Church of England that are exploring questions relating to human sexuality.''