Nottinghamshire Boy In Hospital After YouTube Prank Goes Wrong
17 September 2018, 08:06 | Updated: 17 September 2018, 08:36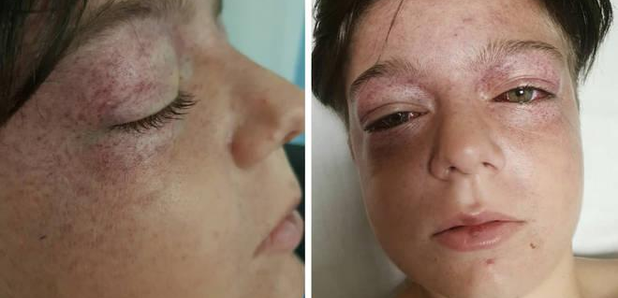 An 11-year-old boy from Nottinghamshire is in hospital with serious injuries after a YouTube prank went wrong.
Tyler Broome was left with swelling on his brain and bulging eyes after getting G-Force injuries when he was asked by a gang to recreate the so-called 'Roundabout of Death' prank at a park in Tuxford last week.
It involves being spun at high speeds on a park roundabout which is being powered by a moped.
The injuries he received are often more likely seen on fighter pilots and astronauts.
Tyler's mum Dawn Hollingworth says she's worried he could have a stroke. She said: "We've all done pranks, we've all done silly things that maybe with hindsight shouldn't have done, and probably some older than 11-years-old.
"Could some of them have handled it differently? Yes they could, but this is where we are."
Dawn said that her son knows he made "the wrong decision" and that he could have lost his life.
"YouTube needs to take responsibility.
"I don't think people should be allowed to just upload video of anything and it not be filtered."
A 16-year-old has been questioned under caution by Nottinghamshire Police.
The force said it had also seized a moped as part of its investigation.
Chief Inspector Andy Rooke said: "Anyone who comes into control of any kind of vehicle at any time has a responsibility to ensure the safety of all those who come into contact with it and should know that they are ultimately accountable for that vehicle, however it is used, as long as it is under their control.
"While we cannot comment too much on the specifics of this incident as long as it remains subject to a live investigation, it would be wrong to miss this opportunity to stress just how powerful motor vehicles can be and the damage they can potentially cause should absolutely not be underestimated.
"What may have seemed like 'a bit of fun' at the time has turned into an incident where an 11-year old boy has received horrific injuries and, thankfully, while he appears to be recovering well under the circumstances, everyone involved is very lucky the incident did not have a very different outcome.
"We hope that this incident and the severity of the boy's injuries serve as a strong warning to anyone thinking about recreating something they have seen online, rather than an inspiration to others to follow suit.
"Regardless of the rights and wrongs of this incident, we should remember that those involved are only young themselves and could not have been prepared for the attention they have received as a result of this incident.
"Anyone who takes it upon themselves to send abusive messages online or from their mobile phones should know that those messages, once reported, will be investigated and those responsible will be dealt with robustly."