Nottingham Pilot Inquest After Helicopter Crash
26 November 2015, 07:57 | Updated: 30 March 2016, 13:50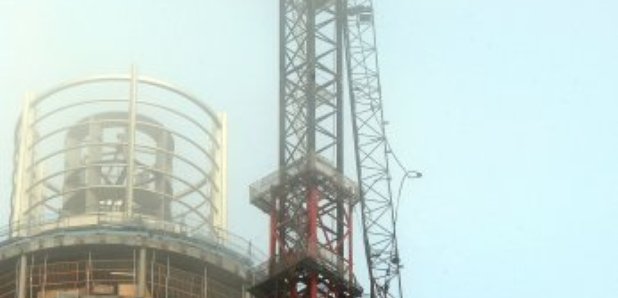 A restaurant tycoon told an inquest he did not put ``one iota'' of pressure on a Nottingham helicopter pilot to divert a flight in bad weather and pick him up so he could go to a shoot with the Queen's cousin.
Richard Caring, owner of the exclusive Ivy restaurant franchise, said he twice told Pete Barnes not to take off because his planned landing site was covered in fog and low cloud.
Mr Barnes, 50, was killed on the morning of January 16 2013 when his helicopter hit a crane 770ft above the ground on The Tower in Vauxhall, central London, and plunged to the ground below.
In the face of repeated questioning about pressuring Mr Barnes, Mr Caring said he felt he was being ``put on trial'' over the issue.
He told Southwark Coroner's Court he had done everything other than steal Mr Barnes' keys to persuade him not to fly, saying: ``I didn't pull his strings.''
But a friend and fellow pilot who spoke to him just hours before he died said he had felt under ``extreme pressure'' to go ahead with the flight.
Mr Barnes, a father-of-two from Berkshire, had been flying from Redhill Aerodrome in Surrey to Elstree in Hertfordshire, but diverted to Battersea heliport, near Vauxhall, because of bad weather and crashed en route.
Pedestrian Matthew Wood, 39, from Sutton, Surrey, also died in the incident as he walked to work and 12 others on the ground were injured.
Mr Caring told the court he had flown with Mr Barnes more than 100 times over 10 years and considered him a ``wonderful, charismatic, friendly, jovial, professional pilot'', and would invite him to join in during shoots and for dinner afterwards with his friends.
On the morning of January 16 Mr Caring was due to fly from Elstree to shoot with the Marquess of Milford Haven, a cousin of the Queen, at the Mulgrave Estate near Whitby, North Yorkshire.
Mr Barnes contacted him to say there was low-lying cloud and freezing fog on his route from Redhill, and Mr Caring, who was on his way to Elstree, said there was cloud cover there and told him not to take off.
Mr Caring said: ``I told him twice, 'Don't take off, wait 'til I get there'. He said: 'I am coming anyway, I will land in a field if I have to.'
``I don't see how much more you can do than to say to the pilot, 'don't take off'.''
Mr Caring said they had cancelled or diverted flights many times before, and there was no pressure to fly as it was ``just a day's shooting'', but Mr Barnes decided to leave anyway.
Mr Caring said: ``He decides what he is going to do, he ignores any other advice and does what he wants to do.
``He is a professional pilot with thousands of hours of flying. It is his decision, not anybody else's.''
When he reached Elstree he was unable to land, and while on his way back to Surrey, Mr Caring contacted him to say Battersea heliport was open.
But he denied the suggestion that he was trying to pressure Mr Barnes to divert there to pick him up later, saying he was merely trying to give him an option of somewhere safe to land.
He said: ``I didn't say, 'Battersea is open, please land there', I just said, 'Battersea is open'. I didn't tell him to land there.
``It is left to his own professionalism, intelligence and experience to decide whether to use it and go there.''
Earlier in the inquest Shaun Tinkler-Rose, a pilot colleague at the East Midlands air ambulance, said Mr Barnes told him on the morning he died that he felt under ``extreme pressure'' from both his employer, RotorMotion, and the client, to do that day's job.
He told the jury he thought Mr Barnes may have flown to ``prove a point'' and ``give it a go'', adding: ``The overall gist I got from the conversation was that he didn't really want to fly.
``When we finished the conversation I was pretty much under the impression that he wasn't going to fly.''
But Susan Smith, then RotorMotion's operations manager, said Mr Barnes was his ``own man'' who was unlikely to have felt any pressure.
She said: ``If a pilot feels that it is not safe to fly then the passenger has to respect that decision.''
Mr Caring also rubbished Mr Tinkler-Rose's evidence, saying he had ``exaggerated'' Mr Barnes' comments and taken them out of context, and that the inquest was ``trying to find something here that isn't there''.
He said: ``What went wrong on that tragic day I don't know. ''Maybe part of the fault was that we became too friendly and he felt he might have been letting me down. But I could not go to Redhill and steal his keys.``
Mr Caring added: ``I feel that I am on trial here... Any decision was his, at the end of the day.
``Was he pressurised by RotorMotion? No. Was he actually pressurised that day? Not one iota. You can't say more to a pilot that you also consider a friend than, 'Do not take off'.''
The inquest continues later.