Newark Lorry Driver Jailed For A1 Crash
26 November 2015, 17:17 | Updated: 30 March 2016, 13:50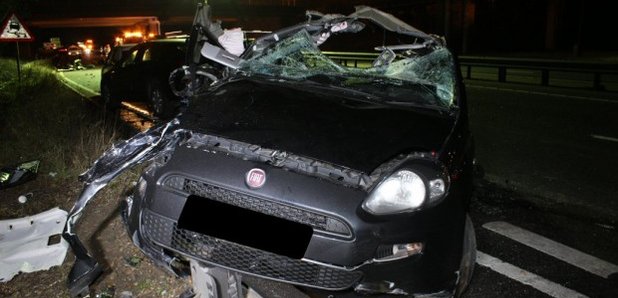 A lorry driver who caused a four car pile up on the A1, after police say he had been texting at the wheel has been jailed.
44-year-old John Cupit from Newark has been jailed for two years and four months after admitting causing serious injury by dangerous driving in January.
The court heard that on Tuesday 27 January 2015 Cupit was driving the 32 tonne lorry along the A1 in Newark and went to leave the road via the slip road. Despite it being a busy time of day, he did not slow down and collided with a Punto. The impact caused the Punto to spin and collide with another vehicle, which in turn collided with another two vehicles. A sixth car drove over the debris.
The driver of the Punto suffered serious injuries and was taken to hospital along with another driver.
Cupit's phone was seized at the scene and evidence from the billing provider and his phone company against driving logs showed that he is a frequent user of his phone while on the road. It also revealed that Cupit had only had a few hours sleep before his drive and had admitted being very tired.
Cupit was arrested and charged with causing serious injury by dangerous driving. He pleaded guilty at Nottingham Crown Court at an earlier hearing and was sentenced today (26 November 2015).
PC John Goodman, who led the investigation, said: "This sentence starts the long healing process for the victims and I hope this gives them the sense of justice being done – they are still recovering from their injuries.
"John Cupit got behind the wheel of his lorry knowing he was not fully concentrating on the road. His repeated use of his phone whilst driving, combined with his lack of lorry maintenance, shows his attitude to other road users. It is by pure luck the situation did not become worse. It was the worst collision damage I have ever seen where a person hasn't died.
"This also sends a message about the dangers of using your phone whilst driving. You are risking your life, and the lives of other road users."