Mum of Murdered Nottingham Teenager Speaks For First Time
12 March 2018, 10:31 | Updated: 12 March 2018, 10:45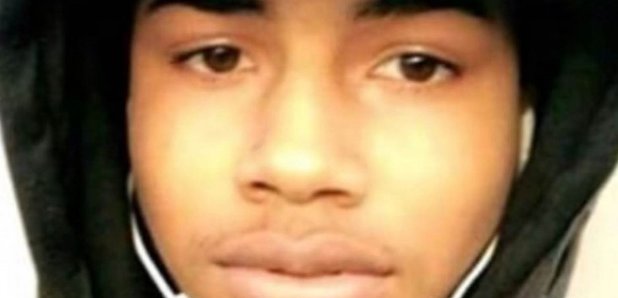 The mum of a 17-year-old murdered after being stabbed in an attack in Nottingham has told Capital it feels like a dream that he is no longer with her.
Lyrico Steede died in hospital six days after being stabbed multiple times in Bulwell on February 13 2018.
He was found by police severely injured in Stock Well, Bulwell.
Since then, four people have been charged over his death.
Family and friends met at Vernon Park, Basford, on Saturday 10 March to remember Lyrico by holding a celebration of his life and letting off balloons.
Balloons have been released to remember 17-year-old Lyrico Steede who was stabbed to death in #Bulwell #Nottingham last month #CapitalReports pic.twitter.com/UBvD43zAhL

— CapitalEastMids News (@CapitalEMNews) March 10, 2018
His mum Keishaye organised it, and told Capital she still can't believe that he has gone. She told us: "It still doesn't feel real. I've been holding out pretty well, the best we can. It still feels like a dream.
"He looked so peaceful there (in hospital). I just thought he'd get up and say "mama" or something. But it never happened."
Lyrico Steede's Mum Keishaye has spoken for the first time about the moment police came to tell her about the 17yo's stabbing in #Bulwell #Nottingham last month #CapitalReports pic.twitter.com/Di0vsWsCTK

— CapitalEastMids News (@CapitalEMNews) March 12, 2018
Keishaye was joined by detectives from the East Midlands Special Operations Unit at his memorial to also appeal for anyone with more information to come forward.
Lyrico's mother Keishaye Steede, 35, said: "My son was a good boy. He lived a good 17 years of his life and he was a happy boy."
She then appealed directly to anyone who may have any information, urging them to come forward and saying: "Rico's not coming back, but at least they can sleep at night knowing they did something."
Lyrico Steede's Mum Keishaye has told Capital she thinks the person who asked to meet the 17yo in #Bulwell #Nottingham on the night he was stabbed knows exactly who attacked him.

She held a memorial event for him at the weekend.

Four have been charged so far #CapitalReports pic.twitter.com/EODbXocyb6

— CapitalEastMids News (@CapitalEMNews) March 12, 2018
Detective Inspector Becky Hodgman, of East Midlands Special Operations Unit (EMSOU) Major Crime, attended the event today and handed out appeal leaflets as she renewed an appeal for information.
"Although we have charged three people with murder and one with assisting an offender we are still appealing for information from people who may have heard something since," she said.
"We believe the offenders were blood-stained so we would appeal directly to families - has your son, brother, friend recently got rid of a favourite coat, pair of shoes, tracksuit or changed their phone number since 13 February? Have you noticed a change in their behaviour that has made you feel they might know something?
"We are particularly keen to hear from anyone who may have found Rico's rose gold iPhone 6 with a white front in the Bulwell area since 13 February and would urge them to please hand it in to us."
Kasharn Campbell, 19, of no fixed address, and two 17-year-olds - who cannot be named for legal reasons - have been charged with the murder of Lyrico and are due to go on trial on 2 October. A 17-year-old girl has also been charged with assisting an offender and is due to appear at Nottingham Youth Court on Tuesday 3 April.