Massive Fire At Old Nottingham Cattle Market "Under Control"
5 November 2018, 09:07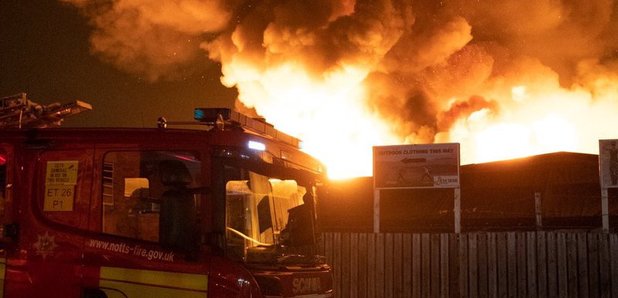 Investigations are going to start after a massive fire at a former cattle market in Nottingham.
Four buildings were involved in the fire close to Notts County football ground, Meadow Lane, from around 6pm on Sunday 4 November.
Callum, from Newark, saw the fire on his way home from last night's Nottingham Panthers match and posted a video on Twitter. He told Capital: "You could just see an orange glare.
"We knew about the fire because they said on the tannoy system at the game. It was massive, I don't think my video quite did it justice, but it was huge.
"It's really different seeing it in front of you than on the TV. It was intense."
Massive fire in Nottingham near trent bridge #nottingham pic.twitter.com/6QguAT9Md2

— Callum Toone (@toonecallum) November 4, 2018
Nottinghamshire Fire and Rescue Service says the fire has now been brought under control.
15 fire engines were called to the scene at its height, with crews from Leicestershire and Derbyshire also helping put it out.
Nottinghamshire Police and East Midlands Ambulance Service were also in attendance, but there have been no reports of injuries.
Exploding compressed gas cylinders at the scene may have been heard "across Nottingham", according to senior firefighter Area Manager Bryn Coleman.
He gave this update last night:
Officer in charge AM Bryn Coleman @swimmingstag1 gives an update on the fire in #cattlemarket Nottingham @nottspolice @EMASNHSTrust . pic.twitter.com/l4VJbUlXC6

— Nottinghamshire Fire and Rescue Service (@nottsfire) November 4, 2018
Water was pumped from the Nottingham Canal, and people across the city were asked to keep windows and doors closed, and away from the area around Meadow Lane football ground.
Capital's Alex Hulse was at the scene this morning:
.@hulsey1987 has the latest after last night's massive fire at an old cattle market next to @Official_NCFC football ground in #Nottingham #CapitalReports pic.twitter.com/CWckfalx4i

— CapitalEastMids News (@CapitalEMNews) November 5, 2018
(Pic: Nottinghamshire Fire and Rescue Service)