Man Shot As Police Go Back To Scene of City Centre Attack In Nottingham
10 November 2018, 11:13 | Updated: 10 November 2018, 11:24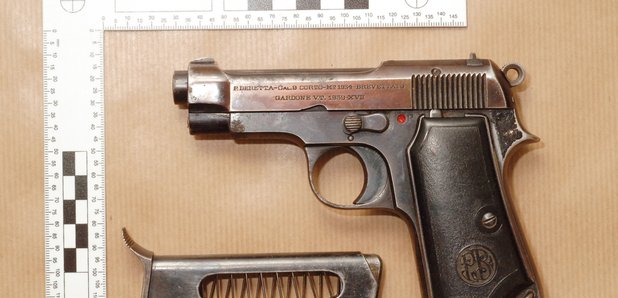 A man's been shot in the leg in an attack in Nottingham as police return to an area of the city centre where shots were fired at a bar a week ago.
Officers were called to Eversley Walk, Bestwood Park around 8.50pm last night (Friday 9 November).
They say the victim has suffered non-life threatening or altering injuries in what's been described as an isolated incident.
It's thought two men were involved in the incident.
Detective Inspector Kim Binns said: "We believe two black men in their 20s were involved and following the incident have headed in the direction Hazel Hill Crescent. So if anyone saw anyone acting suspiciously or perhaps a vehicle waiting in the area then please get in touch.
"This appears to be an isolated incident, unconnected to any of the recent serious incidents we've seen in Nottingham and there is no wider threat to the public. We have a team of people working on this around the clock. We also have increased patrols in the area so if anyone feels concerned and wants to speak to one of our officers, please stop them in the street."
It's as police put on extra patrols in the city centre after shots were fired at Das Kino bar in Fletcher Gate, Lace Market, on Saturday 3 November.
A 24-year-old woman was injured as it happened and a 20-year-old man has been questioned and bailed.
They are trying to get more information from people who may have been in the area at the time.
Despite a perception that gun crime is increasing again in the city, officers say it's down compared with 10 years ago.
Assistant Chief Constable Kate Meynell said: "Any time a gun is used in a crime, particularly when it is discharged, we treat it extremely seriously with a rapid response and commitment of resources to both deal with the incident and the ongoing community impact.
"Thankfully we have seen a significant reduction in gun crime in the last financial year - falling by 30%. While figures can fluctuate over longer periods there is also evidence of a longer term decrease too. If we look back as far as our figures allow us to meaningfully compare, in 2007-08 we averaged 23 offences of gun crime per month, whereas now we average eight per month.
"It is also worth noting that when you compare Nottinghamshire Police to the other seven forces considered most similar to ours, we have a below-average proportion of gun crime per head of the population and have around half the proportion of the highest force in that group.
"I'm not suggesting that those figures mean gun crime is not an issue. It is simply to illustrate that while a high-profile incident can bring gun crime into the public attention, an incident in itself does not reflect a growing problem. To reiterate, all gun crimes are serious and are treated seriously and our commitment to tackling the issue will continue to be robust and relentless.
"We also proactively act on intelligence to recover firearms and take them off the streets. We have recovered 28 firearms since January."