Madeleine McCann - Ten Years On
3 May 2017, 14:51 | Updated: 3 May 2017, 19:44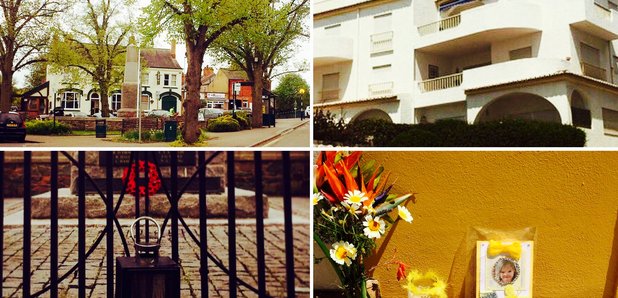 Leicestershire girl Madeleine McCann went missing ten years ago to the day.
Capital's been covering the anniversary from the holiday resort in Praia Da Luz, in Portugal, where the then 3-year-old went missing, and from Rothley in Leicestershire, where the McCanns still live with Madeleine's twin brother and sister.
PORTUGAL
Capital's @hulsey1987 in #PraiadaLuz says everyone here has a story to tell about Madeleine McCann's disappearance #CapitalReports pic.twitter.com/hgpc70yBZT

— CapitalEastMids News (@CapitalEMNews) 3 May 2017
Both villages held special services. The one in Portugal was for all missing people and was held at 9pm - the time Madeleine went missing.
Alex Hulse reports from outside the Church of Nossa Senhora da Luz in Portugal, where he's been speaking to locals.
A candle bearing Madeleine's name and a card with her picture on have been placed outside the church in Luz where the service took place.
The card, reading "Maddie with love" features a photograph of the little girl surrounded by diamante stickers, with a butterfly, yellow bow and flower.
'I hope we find out what happened' : Sharon's laid flowers at church in #PraiaDaLuz where service will remember #Madeleine #CapitalReports pic.twitter.com/cGQq4eHz0d

— CapitalEastMids News (@CapitalEMNews) May 3, 2017
LEICESTERSHIRE
Madeleine's parents Kate and Gerry McCann turned up for a service at Rothley Parish Church, in Leicestershire with support from the local community.
VIDEO: Kate and Gerry #McCann arrive at the anniversary service for Madeleine in #Rothley #CapitalReports pic.twitter.com/YqZWLzn7mZ

— CapitalEastMids News (@CapitalEMNews) May 3, 2017
Villagers joined the McCann family as they have done every year with a candle still burning near the local war memorial in the hope she's found alive:
Madeleine's parents, Kate and Gerry McCann, have vowed to do "whatever it takes for as long as it takes" to find their daughter, who would now be nearly 14.
Mrs McCann said: "My hope for Madeleine being out there is no less than it was almost 10 years ago.''
The couple described it as a "horrible marker of time, stolen time''.
VIDEO:Villagers in #Rothley tell Capital they will never give up hope of finding Madeleine McCann, a decade on from her disappearance pic.twitter.com/BA2MJLtfCJ

— CapitalEastMids News (@CapitalEMNews) May 3, 2017
Last month, Scotland Yard said its officers are still pursuing "critical'' leads to trace Madeleine, with officers receiving information on a daily basis.
Mrs McCann said: "We just have to go with the process and follow it through - whatever it takes for as long as it takes. There is still hope that we can find Madeleine."
Asked how the family would get through the anniversary, she added: "Every day is another day without Madeleine.
"I think we'll get by as we have any other year really, we'll be surrounded by family and friends, you know, obviously we'll be there remembering Madeleine, as we always have."