Leicester Factory Fire- What Do We Know
29 December 2015, 17:35 | Updated: 30 March 2016, 13:50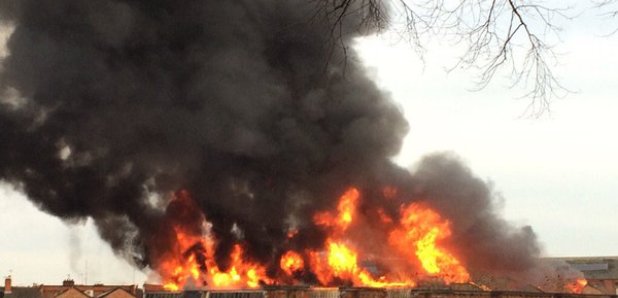 An eye-witness to the large factory fire at Abbey Mills in Leicester yesterday (28th December) has compared it to the Great Fire of London.
The fire was reported just after 2pm yesterday in Abbey Mills just off Ross Walk and was evacuated by crews for Leicester Fire and Rescue Service.
No injuries have been reported.
The latest from the fire service is that they have 2 pumps at the scene and are damping it down whilst identifying hot spots. The service has told Capital that they are working with Western Power Distribution to help the local community and investigators are assessing the scene.
In the meantime, drivers are being advised to avoid the Ross Walk area of Belgrave as there are road closures in place and delays are to be expected.
Hafiza Hajat was there when it happened and spoke to Capital.
UPDATE ROAD CLOSURES (18:00 29th December)
Marjorie Street at the junction of Westbourne Street and a walkway off Ross Walk are closed and are expected to remain closed overnight.
All other roads in the area have reopened.
If you are travelling towards the area please take an alternative route or expect delays.
Leicestershire Police is working with Leicestershire Fire and Rescue Service to ascertain the circumstances surrounding the blaze.
Photo Credit: Twitter @hafizahajat