Leicester City Victory Parade - All You Need To Know
16 May 2016, 08:47 | Updated: 16 May 2016, 08:59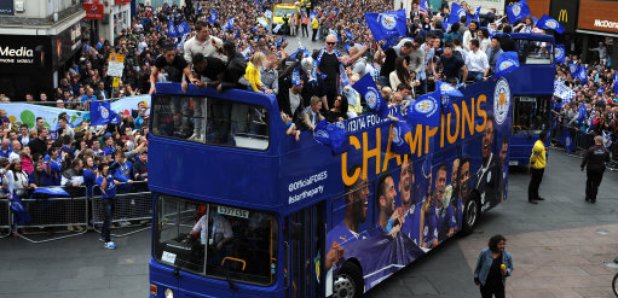 If you've got your flag, shirt and scarf handy, here's all the information every Foxes supporter needs to know:
FOLLOWING THE BUS
Leicester City's players, with captain Wes Morgan leading the way, will be on an open-top bus which sets off from Jubilee Square, just a few yards from Leicester Cathedral, where of course King Richard III is buried.
They leave at 6 and head down the High Street into the heart of Leicester, where they will pass the Clock Tower and turn down Gallowtree Gate and Halford Street. Next in line is the Curve Theatre- where family-friendly viewing platforms are available - before the bus turns back towards Charles Street and heads south.
London Road is expected to be a sea of blue and white, as the bus makes its way towards Victoria Park. Official plans suggest they'll arrive at a concert-style venue with as many as 100,000 people - over 25% of the city's population - expected to turn out.
They SAY it's due at the park by 7, but good luck with that as it stops on a number of places along the route.
VICTORIA PARK
It opens up from 3pm with an activity zone for kids.
From 4.30, highlights of City's season will be played on the big screen before the big arrival of the players due to be on stage from 7.
Entertainment is due to last until 9, but who knows when the party will finish....?
EXPECT DISRUPTION
London Road will be closed from 6pm to traffic, while park and ride sites will be open later than usual. Bus routes via London Road will be heavily disrupted during the parade and diverted along either
St Peter's Road or Welford Road and Chapel Lane.
Of course, on-street parking will be removed down many streets with City car parks expected to be at a premium.