Kayleigh: A Year On
15 November 2016, 06:32 | Updated: 15 November 2016, 06:49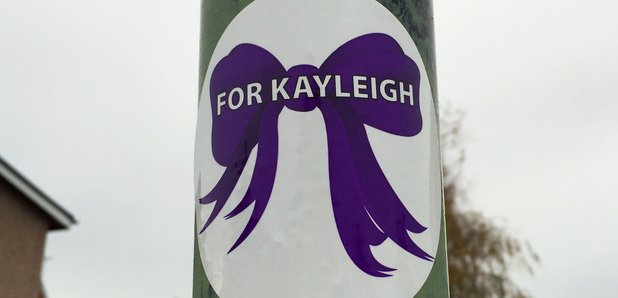 The mum of murdered school girl Kayleigh Haywood talks to Capital in a radio exclusive
The Leicestershire mum of murdered school girl Kayleigh Haywood, has told Capital she's having to see a psychiatrist as she comes to terms with what happened to her daughter, exactly a year ago.
Stephanie Haywood has told Capital that being pregnant at the time, helped to give her a reason to go on:
'It's hard.
'My children have kept me going, that's what Kayleigh would want; for me to keep going and for me to keep battling on.
'But, it is a battle.'
Stephanie has told Capital how the last 12 months have been:
'Devastating, heartbreaking...it's just a sense of loss.
'It's just never ending.
'It never will end because we feel we have the life sentence and not the others because we'll never get Kayleigh back.'
Kayleigh was groomed by a man she met on Facebook before being raped and killed by his neighbour in Ibstock.
Stephan Beadman and Luke Harlow are in prison.
A special church service will be held in Measham tonight to celebrate Kayleigh's life.

Heartbroken Parents
A year after her murder, Kayleigh's mum and dad have written a letter, read it, in full, below.
Where do we begin? Here we are the 1st anniversary of losing our beautiful daughter Kayleigh. How we have come this far we will never know. We go day by day. We cannot cope with more than that. Our beautiful Princess Kayleigh was tragically taken from us one year ago - a heartache that no parent should have to go through. It was certainly something we never ever thought we would ever have to experience, and God how we wish we hadn't had to go through this terrible tragedy.

Going back to that fateful and dreadful weekend last November 2015,we can still feel each emotion as if it is now, all we felt back then will never ever leave us, we remember words that were spoken to us by each and everyone yet at the time everything seemed so unreal and each day back then waiting for news seemed a blur. We lived minute by minute. Everything was spinning around in our heads, our emotions were so overwhelming. We never thought we would cope from one day to the next. Time seems to stand still. We were living in a nightmare that we couldn't wake from.

When we realised that Kayleigh was missing we rang the police straight away, hoping and praying that later that night they would come to the door and bring Kayleigh with them and say that we have brought your daughter home safe and sound. How wrong we were. What an absolutely horrendous time lay ahead for us. From the first moment the time the police force became involved with us we made some really good friends through the tragedy that we had to endure. The Superintendent known to us as Kate [DETECTIVE SUPERINTENDENT KATE MEYNELL] was absolutely brilliant. While she was very, very professional she straight away came across as our friend. As the minutes turned to hours and hours to days we got to know more of the police force. Andy [DETECTIVE CONSTABLE ANDREW SPENCE] and Simon [DETECTIVE INSPECTOR SIMON SHUTTLEWORTH] were with us every step of the way keeping us up to date with anything and everything that was happening in the event of finding our daughter hopefully alive they hoped beyond hope along with us that this was to be. Then there was Paul [DETECTIVE CONSTABLE PAUL VINCENT, FAMILY LIAISON OFFICER] and Alka [DETECTIVE CONSTABLE ALKA MISTRY, FAMILY LIAISON OFFICER] our liaison officers who were with us day and night never leaving us to have to deal with this awful situation to cope on our own. Matt [MATT TAPP, DIRECTOR OF COMMUNICATIONS] who dealt with the press releases was so understanding as to what news was released. He always considered our feelings and informed us first as to what was going out to the public.

If we can go back to the night of November 18th 2015 when the terrible heartbreaking news was delivered to us this is where we want to begin to say our "thank yous" to each and every one. Firstly, the search team who had been searching for Kayleigh worked tirelessly in the cold in the dark every minute of the day and night to find our little girl at last the found her. How devastating for the officers involved but each and every one of them completed this heart-breaking task with so much humanity, dignity and compassion. Thank you all so much for bringing her back to us though it wasn't the way we wanted it but we had her back. Thank you.

The superintendent (to us Kate) came to deliver the news that Kayleigh had been found along with the complete support and help of Kate's team Andy, Simon, Paul and Alka, who had waited alongside for us news. Kate told us the news that Kayleigh has been found and told us a few details of what had happened. Kate was a very professional lady. As she broke the news we felt her compassion, her sincerity, her heart-break too, as our hearts were breaking as we listened to her telling us the news we just didn't want to hear .What a special lady it takes to be able to deliver the news she had to give to us. To us that special lady is Kate. Thank you.

We also want to say a special thank you to Matt who covered our story in the newspapers. He always kept us informed of what he would be printing in the press. If we felt something wasn't right or we didn't want certain things going in he always respected our wishes. We believe that all his press releases were conducted with dignity for our little girl and real compassion and respect for us and our family. Thank you.

We then had to deal with the court proceedings but our liaison officers were still with us all the way they have been all the way through never left us. They stayed to the very end till justice was done for our Kayleigh. Our barristers Miranda and Teresa were Kayleigh's voice in that court room and yes, they fought so hard for her. They fought through tears and got Kayleigh the justice she so deserved. We say to you both a very big thank you.

We just wanted to say a big thank you to each and every one of the people that have been by our sides helping us from the beginning of our journey and even now some are still there when we need them. We wanted to pay tribute to our police force and thank them too from the bottom of our hearts. THANK YOU.

Along with the thank yous we have to include all our family and friends who have been with us along our journey too and are still here helping us to get through each day without our beautiful Kayleigh. We will never ever get over this tragedy. Never. We still cry so many tears, still ask why? and if only, and some questions will never be answered. It is hard to believe we have gone one full year without our beautiful daughter Kayleigh. It all seems such a blur and now today, on Kayleigh's Anniversary, we relive that horrific heartache and pain that hit us one year ago today and have felt ever since. Birthdays and Christmas were her favourite times of the year. We have missed her so much as each birthday of her brothers and sister and Christmas was so heart-wrenching and empty without her.

We have no words that could ever describe our heartache , but we do have so many, many beautiful memories locked away safe in our hearts which no one can ever take away from us. We visit Kayleigh's grave most days with her brothers and sisters. We tell her about what we are doing with our lives. The little ones shout up to the sky each time we go. "WE LOVE YOU KAYLEIGH" and each time they do it still breaks our hearts. As the young ones grow up enough to understand we will tell them about their beautiful big sister who lives in the sky, all about her favourite things, her school days, her holidays and Christmas's and how she loved to brush her beautiful long hair. She will live on forever with us and never ever be forgotten by us and so many people around not only the country but the world too. She touched so many people's hearts our beautiful little girl, and Kayleigh's legacy will live on forever.

The biggest thank you to each and every one of you. We love you all.
Martin and Stephanie
Broken hearted Mum and Dad XX.