Jeweller Murder Accused Tells Of 'Angry' Co-Accused 'Hitting' Victim
18 July 2018, 18:12 | Updated: 25 July 2018, 09:36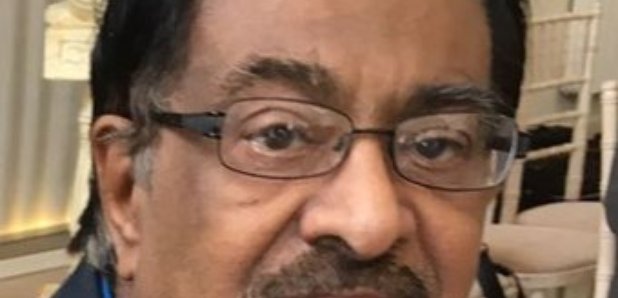 A man alleged to have had a role in murdering a jeweller in Leicester has claimed his co-accused "got angry" and started attacking the victim, a court heard.
Jurors have heard Ramniklal Jogiya, 74, was bundled into a van by a gang while walking home, severely beaten and tortured for information before being dumped in a country lane near Stoughton.
Four men, Thomas Jervis, Callan Reeve, Charles Mcauley and Javon Roach are all accused of his murder on the grounds of joint enterprise.
But electing to give evidence in his defence, Mcauley told the jury another gang member told him Roach "started hitting Mr Jogiya" and "poking him" with a sharp tool called a centre-punch.
The victim was abducted near his shop in Belgrave Road, on January 24 this year.
Prosecutors alleged that one of the gang, disguised in a full-face burka entered the shop after the "sophisticated" kidnapping but was unable to open the safe due to a 12-hour time-lock.
The men were equipped with a set of mobile phones, a full-face burka disguise, a shopping trolley to move the haul, a long-wheelbase van and two Ford Fiestas.
From the witness box, Mcauley claimed he had initially been the van's driver, and was at the wheel when the others, whom he named in court as Jervis, Reeve and Roach - together with a "fifth man" - abducted Mr Jogiya near the shop.
Asked by his barrister Christopher Donnellan QC, who the fifth man was, Mcauley refused to name him in court, claiming there would be "repercussions" if he did so.
As the other defendants watched from the secure court dock, Mcauley claimed it was Jervis who first told him of a plan to raid the jewellery store, but that it was "somebody else" who had come up with the initial idea.
After Mr Jogiya was abducted, Mcauley, who jurors were told has already admitted kidnap and robbery, alleged they all then drove to one of the Fiestas, with Mr Jogiya still in the van.
Mcauley got out with Jervis, who donned a burka and was then handed a gun by another gang member.
Mcauley alleged one of the two men, either Roach or the unnamed man, said to Jervis "to take it with him" - but denied knowing a gun had even been brought along until that moment.
He said: "He (Jervis), asked them what he needed it for, and they said to take it to the shop, and if someone comes to scare them with it."
Mcauley claimed Jervis briefly passed him the weapon "for 10-15 seconds", while changing into the burka, and then took it back as the pair got in the Fiesta and drove to the jewellers.
However, the "plan was a bust" Mcauley told jurors, when having got the shop, Jervis was defeated by the safe's time lock.
He then claimed he rang the men in the van - by now just Roach and the fifth man - telling them about the snag.
Mcauley also alleged that in the meantime, a member of the public had turned up and was "banging on the windows of the shop".
Mcauley said: "I can't remember who rang them (in the van), either me or Jervis.
"We told them to let Mr Jogiya go, that someone was at the shop, so let him go and everyone was going home."
He alleged that the next day he, Reeve and Jervis burned their clothing and the burka on waste ground.
When Mcauley went to check on the two Fiestas, however, he discovered one was not where it had been left, while police had found and were guarding the other.
He claimed he then "never touched" the van, though he did see it still parked where it had been left.
Mcauley claimed that Jervis later came to his house "shaken up".
"He said they'd found a body," Mcauley told jurors.
"I said 'so what's your point?'"
Mcauley added: "I said to Tom it's still irrelevant to us, and he was saying he had a bad feeling, so I told him to chill out and I'd go and see one of the occupants (of the van) and find out exactly what happened."
Telling jurors he then went alone to see the "fifth man", Mcauley said: "I just said to him, 'what exactly happened, after me and Tom (Jervis) left the van?'
"And he just said they were holding him (Jogiya) and driving him around.
"After we had explained to them the job was up, and we didn't get anything, that the plan had failed, he said one of the occupants got angry and started hitting Mr Jogiya.
"He said he poked him...I asked him to be more specific about what had happened and I asked about poking, because a lot of people say it when they mean stabbed.
"And he said he was poking him with a centre punch, because he was angry because we didn't get anything."
Asked by Mr Donnellan if the man had said who had been hitting Jogiya, he said: "Yes he did he said it was Mr Roach."
Jervis, 24, of Enderby Road, Whetstone, Leicestershire; Mcauley, of Gooding Avenue, Braunstone, Leicester, and 20-year-old Reeve, of Aylmer Road, Leicester, have all admitted kidnap and robbery but deny murder and manslaughter.
Roach, 30, of Norwich Road, Leicester, denies charges of murder, manslaughter, robbery and kidnapping.
The trial continues.