Grass and Rubbish Fires Up By 600% In Nottinghamshire
26 July 2018, 08:20 | Updated: 26 July 2018, 08:29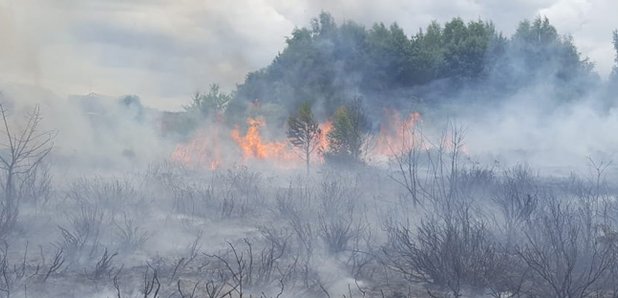 Firefighters in Nottinghamshire have asked people to be sensible in the hot weather as they say their calls outs to grass and rubbish fires this month so far is up 600% on last July.
Nottinghamshire Fire and Rescue Service yesterday said they were called to 349 so far this year, which stops them from attending more serious incidents.
Investigators say they think most of them have been started deliberately, meaning they are preventable, and that those that may set them do not realise the dangers and consequences.
The service is asking parents to ensure that children on school summer holidays don't set these fires and have put out advice and key messages.
They say:
Don't drop cigarettes, dispose of them properly.
Take rubbish home or put it in a nearby bin.
Don't leave glass bottles lying on the ground as sunlight shining on these can lead to a fire.
Setting fires is not cool or fun - How would you feel if firefighters were unable to attend a lifesaving emergency because of your fire?
Don't try to tackle grass or other fires in the open on your own as they spread quickly, and instead call 999 immediately.
Station Manager for Prevention, Paul Gair, said: "This summer has certainly seen prolonged periods of high temperatures, and you will only have to look out of your window to see how dry the ground and grass has become.
"This means that fires can happen more easily and spread rapidly, and with the increase in grass fires we have seen recently, it's more important than ever that people of all ages take note of our advice and help us to protect our grassland and woodland areas for all of us to enjoy during the summer holidays.
"As a Service, we attend all kinds of incidents, not just fires - but when our crews are mobilised to deal with grass fires, which can be large or small, they are potentially being taken away from attending more serious incidents where lives may be at risk, and I am sure that nobody wants that on their conscience.
"We know that the summer holidays are a chance for young people to relax and get into the outdoors, but if you're a parent, carer, teacher, summer activity club leader or maybe even a coach, help us to by speaking to young people about the consequences, to us, to them and to the communities of Nottinghamshire of fire-setting."