Explosion At Derby Post Office Caused By Thieves
23 October 2018, 06:19 | Updated: 23 October 2018, 08:20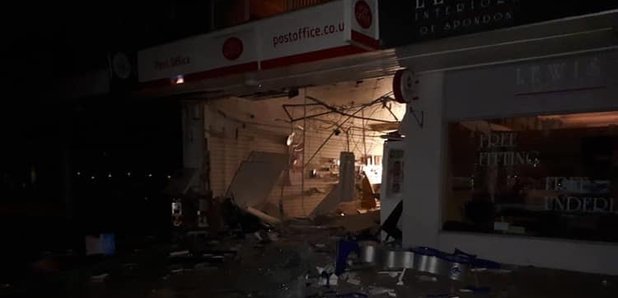 A shopfront in Derby has been badly damaged in a blast after thieves attempted to steal a cash machine.
Derbyshire Police said they had been called to reports of an explosion at the Post Office in Chapel Street, in Spondon, at about 4.45am on Monday 22 October.
Debris, including the shop's front door, had been thrown across the pavement and the ATM had been moved about a foot by the force of the blast.
Despite the explosion, nobody was hurt, police added.
In a statement, the force said: "Officers were called to the Post Office on Chapel Street in Spondon this morning, to reports of an explosion.
"On arrival it was found that an attempt to steal the ATM machine had been made. Inquiries are still in the early stages.
"Anyone with information relating to the incident is asked to contact us on 101 quoting incident number 86 of October 22."
The Post Office confirmed no members of staff were inside the shop at the time.
Postmaster Sandeep Sarda condemned the plot as "disgraceful" and said it could pose problems in the run-up to Christmas.
He said: "I'm extremely annoyed and quite devastated, it does mean we have to close for a number of days until the Post Office have been in.
"As you can imagine, (the culprits) have been rather heavy handed and until we can assess the damage, I won't be able to comment any further.
He added: "Absolutely disgraceful, absolutely disgraceful. There are livelihoods that depend on it, a number of staff members work here, unfortunately I've had to simply ask them to go back home.
"We are the only Post Office in the community and of course pensioners, young mothers, all sorts of customers get affected.
"It's a huge loss to me. There is a lot of Post Office money in there, there is my stock in there, coming up to Christmas is not the best of times."
Sarah Staff, head of SaferCash at the British Security Industry Association (BSIA), said: "This type of offending has a serious effect on local communities, business and the economic infrastructure.
"There is a worrying increase in the use of gas to execute these crimes and this attack is one of the worst of its kind. The greatest fear is that before long an innocent member of the public will be seriously injured during an attack like this.
"Although the net is tightening and perpetrators being caught and punished, the BSIA is calling on the judiciary to hand down stiffer, deterrent sentences to put a halt to these violent attacks."
Detectives said a stolen BMW, thought to have been used in the latest offence, was found in nearby Oakwood.
Detective Inspector Chris Whiteley said: "The investigation is still in its very early stages, however I would like anyone that saw a silver BMW in the Spondon area between 4am and 5.30am to contact us."
Anyone with information is asked to contact Derbyshire Constabulary on 101 or Crimestoppers anonymously on 0800 555111..
Pic: Facebook/Spondon Councillors.