East Mids Greats Recreated With Train Tickets
21 June 2018, 06:05 | Updated: 21 June 2018, 06:07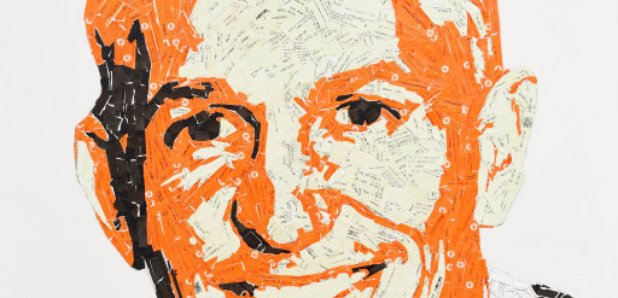 Portraits of Gary Lineker, Sir David Attenborough and Dame Vivienne Westwood have been created from thousands of used train tickets.
East Midlands Trains commissioned the artwork to encourage passengers to switch from paper to mobile tickets.
Portraits of ten of the "greatest ever East Midlanders" have been made from thousands of used train tickets.

Images of Gary Lineker, Sir David Attenborough and Robin Hood were chosen as part of artwork commissioned by @EMTrains.#CapitalReports pic.twitter.com/O60x81nVGh

— CapitalEastMids News (@CapitalEMNews) June 21, 2018
Images of 10 famous faces were made out of 3,000 tickets, representing the average number of paper tickets sold by EMT every hour.
The 10 "greatest ever East Midlanders" were chosen for the project following a public vote.
Sir Isaac Newton, Alan Carr and Robin Hood were among those selected.
The portraits were created by artist Ed Chapman and took 280 hours to complete.
EMT, part of Stagecoach, aims to roll out mobile ticketing across its network by the end of the year.
Passengers who buy tickets using the EMT app on a smart phone or tablet are given a barcode which they can scan at ticket barriers.
The firm's managing director, Jake Kelly, said: "As well as bringing a smile to a few faces, we want to use these artworks to raise awareness about the benefits of using mobile tickets.
"The tickets used in the portraits represent just one hour's worth of paper tickets sold across our network, with over 28 million tickets printed across the whole year.
"In addition to saving time and hassle at the station, there's a clear environmental benefit to adopting digital tickets."
Jason Webb, deputy managing director of customer experience at the Rail Delivery Group, which represents the rail industry, said mobile tickets are "convenient and will help customers save time".
He went on: "Working together, as part of our plan to change and improve, train companies are rolling out technology that means customers can use their mobile phones as tickets on seven out of 10 journeys by the end of this year."
The 10 famous faces selected for the project were:
1. Sir David Attenborough
2. Sir Isaac Newton
3. Robin Hood
4. Sir Richard Attenborough
5. Gary Lineker
6. Jennifer Saunders
7. Sir John Hurt
8. Alan Carr
9. Dame Vivienne Westwood
10. Matt Smith