Duke and Duchess of Sussex Visit Loughborough Uni
25 September 2018, 07:47 | Updated: 25 September 2018, 07:50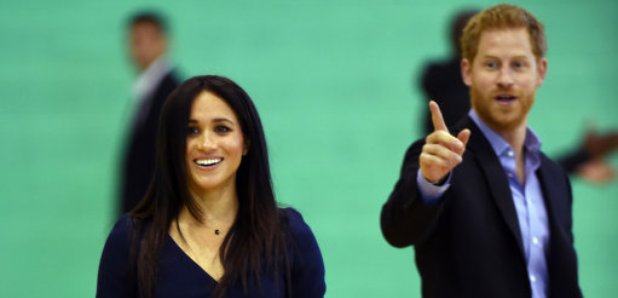 The Duke of Sussex urged graduates of a sports training project at Loughborough University to "inspire the next generation" as his wife took to a netball court in towering stiletto heels.
Harry and Meghan celebrated the achievements of Coach Core students at an awards ceremony, but first they tried their hand at netball with sporting stars and the young people.
The couple showed their competitive streak in a shoot-out, standing back to back as they picked a ball from a basket and threw it to a teammate to start a chain of passes that end with a shot on goal.
Meghan had arrived dressed in a top by Oscar de la Renta, trousers by Altuzarra and stiletto heeled shoes, while Harry was similarly casually dressed in a smart jacket, shirt and trousers.
But despite looking like they were heading out for a night socialising with friends, they were happy to bet involved and were soon laughing and joking with their teammates.
The duchess' players featured gymnastics coach Scott Hann, tennis star Laura Robson and had the added bonus of England netballer Eboni Beckford-Chambers.
While the duke was joined by marathon world record holder Paula Radcliffe, former England batsman Mark Ramprakash, ex-England rugby player Ugo Monye and the huge figure of ex-US basketball star David Robinson, who stood 7ft 1ins tall.
Coach Core graduate Isa Abdou, 20, from Birmingham said Meghan gave her team a pep talk urging them not to be nervous: "She told us to just be comfortable and relax, and she joked saying 'it's a competition, but not a competition'."
Harry's team were 3-2 winners of the shoot-out and at the end the couple put their arms around each other's backs.
The duke and duchess had travelled to the university by train for the ceremony where they each presented an award to graduates of Coach Core, a project using sport to empower those not in education or employment.
Through 12 months of training, the initiative aims to create the next generation of sports coaches who will themselves go on to inspire their communities.
During the awards ceremony the duke gave a motivating speech telling the winners and other graduates of the project run by the royal couple's Royal Foundation: "Once you graduate, it's your job to inspire the next generation after you, an ability that you all now have, whether you know it or not!
"To sports clubs all over Britain, I'd like to say this: The people ready to coach the stars of the future are right here in this room."
When Meghan presented Sebastian Vidal with his graduate of the year award she praised the Coach Core project: "My husband has devoted so many years to Coach Core, and in the past year of my being in the UK to be able to see not just the impact but the incredible inspiration and sense of purpose that this instils in people is astounding."
The royal visit came as Sport England awarded the Royal Foundation a £995,500 National Lottery grant to double the reach of its Coach Core programme by adding 10 new sites in England over the next three years.
Ramprakash, now England's batting coach, described the Coach Core students as "very positive role models" after running two cricket sessions with them earlier at the university.
He added: "The young people came from all different backgrounds and parts of the country, their attitude was great, they were open and they wanted to learn and they really had a good energy about them."
The former cricketer said Harry could not resisting joking with the very tall former basketball player: "He went up to David and said 'what do you play, chess? That was very amusing."