Drayton Manor: Park Closed For Third Day
12 May 2017, 08:21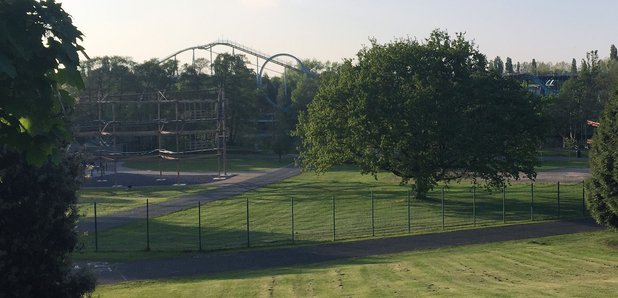 Drayton Manor will be closed for a third day after an 11-year-old girl from Leicester fell from a water ride and died.
Safety investigators will be back at the theme park trying to work out what caused Evha Jannath to fall from a boat on Splash Canyon.
Evha was on a school trip, a post mortem examination's expected Monday.
Water rides at Alton Towers and Thorpe Park are also being closed as a precaution.
Family Support
The family of Evha want her body released as soon as possible so she can be laid to rest.
Suleman Nagdi from the Federation of Muslim Organisation is supporting her family:
'It is something that the community is trying to come to terms with, it has never happened before in Leicester.
'It will take a while for it to sink in.
'We will use the people from within the local authority, police liason officers but at the same time work through the spiritual aspects of this and try to help them as best we can.'
School Statement
It is with the deepest sadness that we issue the following statement:
Parents and carers will be aware that pupils and staff of Jameah Academy in Leicester went on a school trip to Drayton Manor Park on Tuesday 9th May 2017.
Whilst at the theme park, a tragic incident took place where one of our Year 6 pupils was airlifted to hospital. Sadly, she later passed away.
As a school community, we are deeply shocked and our thoughts are with our pupil's family and friends. The school will ensure specially trained staff are in school to provide our pupils and staff support at this difficult time. We would request that the family and the school community are given time to grieve.
Please be assured that the safety and wellbeing of our pupils is our foremost priority. We are liaising with the relevant authorities and therefore we are unable to provide any further information at this time.
'Calm and Collected'
Drayton Manor is closed today as a mark of respect to the family.
Fiona Fletcher was there when it happened:
'Visitors were confused, they were very much like, can you tell us what's happening?
'Staff were very calm, very collected and making sure everyone was out of the way so emergency services could get through.'
Health and safety officials and Police are investigating.
What Happened
West Midlands Ambulance Service was called to reports of a patient who had fallen into water at 2.18pm yesterday afternoon.
An ambulance, a senior paramedic officer, a paramedic area support officer, a rapid response paramedic, a community first responder and the Midlands Air Ambulance from Staffordshire, with a MERIT trauma doctor on board, were sent to the scene.
The first resource was on scene within seven minutes.
The Director of the park George Bryan who was visibly shaken says they are in 'shock' by what happened:
Director @Draytonmanor says they're 'shocked' after an 11 y/o girl from #Leicester died after falling off #SplashCanyon #CapitalReports pic.twitter.com/ocMQ5AK1Dq

— CapitalEastMids News (@CapitalEMNews) May 9, 2017
A West Midlands Ambulance Service spokesman said:
"On arrival, crews discovered a girl with serious injuries who had been rescued from the water by park staff.
"Ambulance staff administered advanced life support before the girl was flown to Birmingham Children's Hospital with the doctor continuing treatment en-route.
"Unfortunately, shortly after arrival at hospital it became apparent nothing could be done to save her and she was confirmed deceased."
He added: "Her parents have been informed and are being supported by officers."
The ride, which opened in 1993 and is described as Drayton Manor's "very own river rapids", has been shut for the rest of the day.
It has a maximum capacity of 126 people - 21 boats with six people in each - and a minimum height of 0.9m.