Disruption As Nottingham Station Shut After Fire
12 January 2018, 11:47 | Updated: 12 January 2018, 12:01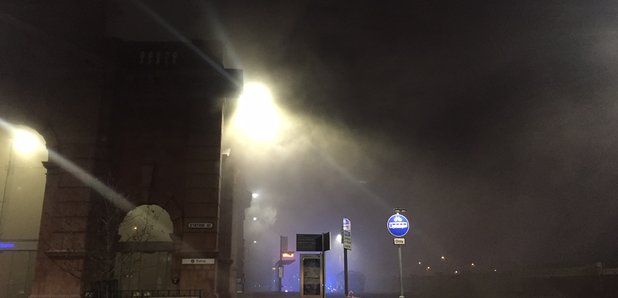 A big fire is causing significant travel disruption across Nottingham after it broke out in a station toilet block.
Fire crews were called to the blaze at the concourse and walkways of Nottingham train station at 6:30am.
The fire later spread to the roof void and around 60 firefighters are tackling "arduous" conditions using specialist equipment.
Capital's @hulsey1987 reports from #NottinghamTrainStation where the building has been evacuated as @nottsfire deals with a 'large incident' #CapitalReports pic.twitter.com/GkiwW3s1Qo

— CapitalEastMids News (@CapitalEMNews) January 12, 2018
Bryn Coleman, Instant Commander at the scene for Nottinghamshire Fire and Rescue Service, said: "We have a serious fire at the concourse and the walkways of Nottingham Station.
"We got a call at approximately 6.30am to a fire involving a toilet block - that has now spread to the roof void.
"It is quite a complex construction, we have 12 fire appliance units here, plus specialist firefighting equipment.
"The conditions inside the station at this time are quite arduous for our firefighters who are committed and working really hard inside.
"The early indications are that it will remain closed for the rest of the day."
#BREAKING @nottsfire Incident Commander Bryn Colman has told Capital the fire at #NottinghamStation started in a toilet block and spread to the roof.

He's just given this update #CapitalReports pic.twitter.com/gdPArLI0h0

— CapitalEastMids News (@CapitalEMNews) January 12, 2018
Mr Coleman said they were working with colleagues from Network Rail and East Midlands Trains in a bid to reopen the station, but added that at the moment "there is still a significant firefighting operation taking place".
The scene was evacuated and no injuries were reported, emergency services said.
The blaze, which started just before the morning rush hour, has caused disruption across the local transport networks.
Several cordons and road closures are in place at Queen's Road, Station Street and Carrington Street, police said.
Nottinghamshire Police said all trains are cancelled and advised people to avoid the area where possible.
The fire also disrupted the journeys of many airline passengers booked on flights to or from East Midlands Airport.
Trains to the airport from Nottingham, Lincoln and Leicester were cancelled on Friday morning.
East Midlands Trains advised people not to travel "unless it is absolutely necessary" and said trains "cannot run to/from Nottingham".
Travel disruption information on the company website said: "There is a fire at Nottingham station. This is disrupting our trains on the Nottingham/London St Pancras Matlock/Nottingham/Newark, Nottingham/Mansfield/Worksop, Leicester/Lincoln/Grimbsy, Nottingham/Grantham/Skegness and Liverpool/Nottingham/Norwich routes.
"It is anticipated that Nottingham station will not re-open today and we expect trains to be disrupted on all routes through Nottingham for the whole of Friday 12th January."
Disruption is expected on all East Midlands Trains, the train operator said.
Buses and trams are also affected, police said.