Concrete Block Attacks On A1 In Nottinghamshire Could Have Ended In Death, According to Victim
6 November 2018, 08:24 | Updated: 6 November 2018, 08:38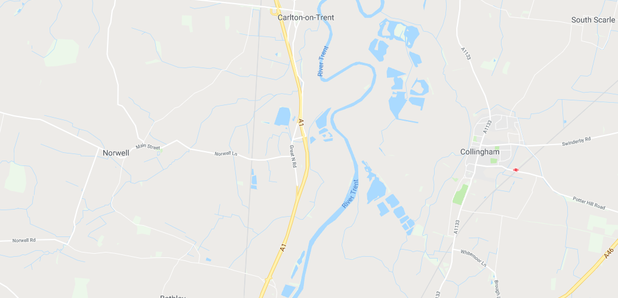 A lorry driver who had concrete thrown on his vehicle in Nottinghamshire has told Capital it's an act that could've killed him.
Terry Dyson was treated for severe hand injuries in September this year after blocks were thrown from bridges over the A1 around Muskham, just north of Newark, and in nearby roads.
His is one of 11 have been reported there in the last two months.
The force and speed of the block saw it end up on the back of his lorry cab bunk.
Terry has told Capital it's going to end up with someone dying. He said: "I have been very, very lucky. It bounced the right way if it had gone a different way I'd have ended up it hitting me in the face.
"I'm still having rehabilitation work on my hand. My finger is learning to move again after the injuries I had. I'm not sure if I'll get full movement again.
"I've lost money since it happened. I only get paid sick pay and I've been off since it happened. I've had to dip into my savings to pay for bills and my house and that.
"I don't know what they get out of doing what they are doing, causing accidents like this. It could have been a death on the road."
Terry's told Capital he's felt let down by Nottinghamshire Police for delaying taking statements from him and getting picture and video evidence from his cab of the impact and his injuries.
"I feel fobbed off," he said. "The police need to do a little bit more. I've had no reports from them, they've not been in touch with me since the accident. I've had a crime number but that's it."
Since Capital spoke to Terry last week, he says the force has since been in touch.
Nottinghamshire Police have told Capital they are investigating all 11 incidents on September 19 and October 16 in the Carlton-on-Trent, Sutton-on-Trent and Muskham stretches of the A1 and that a raft of different measures is being carried out, part of which includes increased patrols in the area.
Sherwood Neighbourhood Policing Sergeant Tony Hall said: "We have been in the process of speaking to everyone involved in each of the incidents and this has taken some time due to the number of incidents and the investigative work to detect and prevent further incidents.
"In relation to the incident involving Mr Dyson we have now spoken to him and are making arrangements to obtain a statement. We will also be making enquiries with his employers to recover the dash-cam footage.
"We are seeking to follow up every available investigative opportunity.
"We continue to ask the public for vigilance in the area and to report suspicious persons or vehicles to 101. If it is believed that a crime is about to be committed then they should dial 999 immediately. Crimestoppers can also be contacted anonymously on 0800 555 111."