Capital Reports: East Midlands News
18 August 2018, 10:03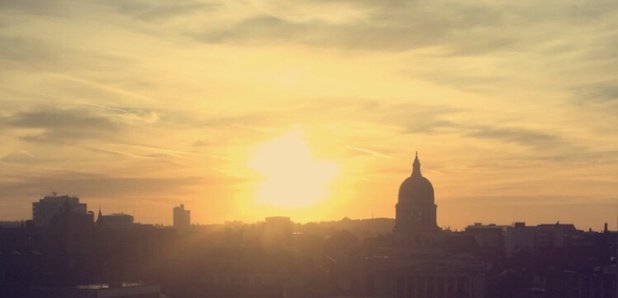 Find out what's going on in Nottingham, Derby and Leicester
Man Charged Over 'Bomb Threat' To Derby Police Station
A man's been charged over a bomb threat which led to a Derby Police Station being evacuated over a suspect package.
42-year-old Piotr Gapsinki from Bembridge Drive is accused of communicating a bomb threat to St Mary's Wharf station yesterday lunchtime.
The area was evacuated and the package was destroyed in controlled explosion.
Leicestershire Supply Teacher Banned Over Racist Facebook Posts
A Leicestershire supply teacher who posted racist images and offensive comments about his pupils on Facebook has been banned from the profession for life.
Kevin Regester was suspended from Thomas Estley Community College after complaints from parents.
The 52-year-old admitted being behind the Facebook account and said he'd already quit teaching and wasn't returning.
Nottingham Man Jailed After Decade-Old Abuse Found Hidden In Wall Of House
A man from Nottingham's been jailed for 24 years after police found evidence he'd raped two children hidden in walls.
Officers searched a house last November - finding latex gloves used by 30 year old Anthony Wood from Camelot Avenue to attack a boy and girl a decade ago.
He'll serve four more years on license.
Family Of Nottingham Man Who Killed Wife Of 30-Years Say They Don't Understand Why He Did It.
A family in Nottinghamshire say they can make no sense of why a 66 year old attacked and killed his partner of more than 30 years.
Yusuf Mohammed's been jailed for more than 9 years - after admitting the manlaughter through diminished responsibility over the death of foster carer Karen Jacquet .
A court heard he used a rolling pin and knife to attack her last August.
Derby MP Criticises Taxpayer Security Bill For Royal Wedding
A Derby MP says it's vulgar for the taxpayer to fork out £2 million to pay for security at Prince Eugenie's wedding.
She marries brand ambassador Jack Brooksbank in October at the same venue in Windsor that Prince Harry married Meghan Markle.
Derby North representative Chris Williamson says they should look closer to home to pay the bill as they are wealthy in their own right.
He says they should not get any money from public funds because she does no Royal duties.
Stokes To Play For England At Trent Bridge
England Test cricket captain Joe Root says it's up to Ben Stokes to decide when he wants to make an apology for last year's fight outside a club in Bristol.
The all-rounder will play in the third test against India at Trent Bridge after being cleared of affray earlier this week.
Teenager Jailed For Shopping Centre Stabbing
An 18 year old's been handed 14 months in youth custody for stabbing a man in the thigh in the Victoria shopping Centre in Nottingham.
Aziah McKenzie McKenna from Sneinton was arrested after an argument in the upper mall in June.
Police Need Dashcam Video of Part of Leicester Before Woman Attacked
People with dashcam footage are being asked by police if they caught a woman on video before she was injured in an attack in Leicester.
A woman was attacked in a play park in Cedar Road on August 3 2018.
Three arrests have been made -with a 24-year-old being picked up in Stoke-on-Trent early on Friday 17 August.
They're all being questioned on suspicion of attempted murder and sexual assault.
Driver Arrested After Making Joint Outside Police Station
A driver's been arrested for rolling a joint in his car outside a police station in Leicester
Police tweeted they picked him up and seized drugs from the vehicle.
Probably not the best idea to park in a bus stop outside a Police Station and then roll a joint! Stop searched and drugs recovered! pic.twitter.com/Mxi15M6RMh

— LeicesterCity Police (@CentralLeicsNPA) August 16, 2018
Friends of Teenager Who Died In Leicester Explosion Will Celebrate His 18th
A group of teenagers in Leicester say they'll be celebrating their friend's 18th brithday today, although he died in an explosion at his home in February.
A number of properties were destroyed on Hinckley Road, after petrol caught light at a Polish supermarket.
Sean Ragoobeer was killed, along with his brother, his mum, and two other people.
Friends of Sean Ragoobeer, who died in the explosion in Hinckley Road in #Leicester in February say they'll celebrate his 18th birthday today.

He died alongside his mum, brother and two others when an explosion destroyed the flat he lived in above a supermarket #CapitalReports pic.twitter.com/0e09gxwYec

— CapitalEastMids News (@CapitalEMNews) August 17, 2018
New Project To Tackle Struggling Jails
New scanners are being put in at two prisons in Nottinghamshire which'll be able to spot drugs packages inside people's bodies.
Sniffer dogs trained to detect drugs like mamba are also being used at Nottingham and Ranby - as part of a new government project to deal with struggling jails.
House of Fraser Sorry Over Online Order Cancellations
House of Fraser's said sorry as it cancelled all online orders.
The department store chain which was bought by Derbyshire-based Sports Direct last week says there's been big delays with delivering orders.
Derbyshire Man Jailed For Two Armed Burglaries
A heroin addict who used a shotgun to hold-up two shops in the East Midlands has been jailed for seven and a half years.
39 year old Ian Watson targeted a store in Nottingham and a Post Office in Derbyshire earlier this summer.
Police found a hi-vis jacket used in one of the armed robberies at his house.
A-Level Results Day
Thousands of students across the East Midlands are picking up their A Level results on Thursday, but new research shows only 75% think university is worthwhile.
Education charity The Sutton Trust say that is 10% down on figures from 2013.
Meanwhile, Childline counselors in Nottingham say they have taken 139 calls from teenagers worried about their grades ahead of receiving their results.
Patrols Continue In Nottingham Over Suspected Westminster Terror Attack
Police in Nottingham are still patrolling the area near to where a flat was searched in connection with the suspected terror attack in Westminster.
A car that crashed into barriers near Parliament was registered to an address in Peveril Street, Radford, on Tuesday 14 August.
Nottinghamshire Police say no arrests have been made in the city.