WATCH: Roman Kemp & The Global Lads Remake Charli XCX's 'Boys' In An Unmissable Parody
3 October 2017, 18:00
The boys have re-made the iconic Charli XCX music video all to help raise money for Global's Make Some Noise.
If you've seen Charli's original music video (let's face it, who hasn't!?) then you know how much of a big deal it has already become. With over 50 MILLION views on YouTube alone, we just couldn't resist making our very own!
> Our Very Own Roman Kemp Looks Unrecognisable As He's Transformed Into Eminem Using Just Make-Up
We've all seen Marv in those epic Insta-fit videos so it was only right we got him to take on a weight or two. In fact, the man himself gave s his thoughts on the video, "I love the original video, it's genius and has an epic cast. When I was asked to take part in a spoof version for Global's Make Some Noise, I jumped at the chance as it's for a great cause and it was such a laugh."

He added, "None of us took ourselves too seriously, and I really think we've done Charli XCX's original video justice. I hope that it encourages people to donate and raise money for Global's Make Some Noise, which does such inspiring work to help disadvantaged young people across the UK."
> Global's Make Some Noise Is Back! Here's What We Do And How You Can Help Raise Money!
Who's that singing the brand new lyrics we hear you ask? Yup, Charli XCX even recorded brand new vocals for the video too!
Roman Kemp was happy to join in (well, he did get to play with a French bulldog after all), "I think Charli XCX's 'Boys' video is just unbelievable – it's just one of those stand out videos, an iconic one that everyone's going to remember. We wanted to recreate a video that we loved and we've kind of put our own spin on it - to be able to raise money for Global's Make Some Noise and help small charities reach millions of people is something we're really proud of."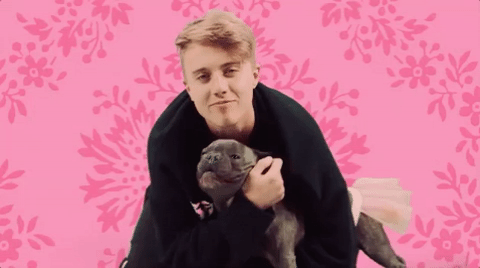 > Download Our App To Learn About All The Ways YOU Can Make Some Noise!
Global's Make Some Noise supports youngsters living with illness, disability or lack of opportunity. On October 6th the fourth annual appeal day will see all Global's stations come together to celebrate the projects Global's Make Some Noise supports with special guests, presenter challenges and money can't buy prizes. Global's Make Some Noise is asking people in schools, workplaces and anywhere else around the UK to wear their loudest clothes on Make Some Noise Day.
To find out how to join in and raise money, and to download the dress loud pack go to makesomenoise.com