West Mids Emergency Services React To Finsbury Park Terror Attack
19 June 2017, 09:28 | Updated: 19 June 2017, 09:29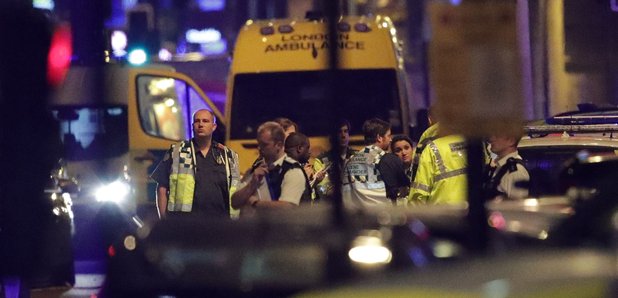 Our emergency services have been sending messages of support to those caught up in the attack on worshippers outside a mosque in London.
One person's dead and 10 others have been hurt after a van drove into them outside a mosque in north London.
Eight people are in hospital after it happened just after midnight, as worshippers made their way out following prayers.
The 48-year-old driver has been arrested.
The Prime Minister will chair an emergency meeting this morning.
West Midlands Ambulance Service tweeted:
Posting tweets like this sadly too often. Our thoughts are with everyone involved in the terrible incident in #FinsburyPark #WeStandTogether pic.twitter.com/Vd9YOyrjYF

— WMAS (@OFFICIALWMAS) June 19, 2017
Staffordshire Police have also sent a message of support:
Thoughts are with all those affected by the #FinsburyPark incident, including our colleagues in the #EmergencyServices

— Staffordshire Fire (@StaffsFire) June 19, 2017
And West Midlands Fire Service have sent their sympathies:
Our thoughts, sympathies and prayers are with all involved in yet another horrific attack in London: https://t.co/1ilWn7KthD #FinsburyPark https://t.co/MK1BW2X2xK

— West Midlands Fire (@WestMidsFire) June 19, 2017
In a statement posted on its website, the Finsbury Park Mosque said it "condemns in the strongest terms a heinous terrorist attack''.
"The van driver deliberately mowed down Muslim men and women leaving late evening prayers from Finsbury Park Mosque and Muslim Welfare House just after midnight,''
the statement said. "This is a callous terrorist attack, which coincides with the murdered MP, Jo Cox, anniversary.''
The mosque's chairman, Mohammed Kozbar, described the incident as "a cowardly attack which is no different than the attacks in Manchester and London''.
"Our community is in shock, our thought and prayer with those who have been affected by this,''
"Finally, our thoughts and prayers are with the victims and their families.
"We urge all attending mosques and going about their business to remain vigilant in this difficult time.''