Two Men Jailed For 22 Years After Armed Robberies In The Black Country
30 August 2014, 09:09 | Updated: 30 March 2016, 13:50
Two men who were part of a gang who robbed 23 shops in the Black Country armed with crowbars and hammers have been jailed.
Gavin Reilly, from Tipton Road, Sedgley and Michael Scanlon, from Rocket Pool Drive, Bilston were found guilty of robbery on Thursday 28 August, after a trial lasting almost three weeks, and sentenced to 11 years each.
The pair, both aged 34, were part of a gang responsible for 23 armed robberies across Wolverhampton, Dudley and Sandwell from September 2013 to January this year.
The spree started in the One Stop Shop in Middleway Green, Bilston on 27 September last year where three masked men struck around 9pm armed with crowbars. They forced staff to the floor as they raided the store.
The gang struck again four days later on 1 October at the Co-op in Dudley Port before continuing their spree for further weeks, striking twice on 2 November in Dudley and Tipton at convenience stores and petrol stations
Investigating officer DC Ryan Matthews said: "The men would burst into each premises, armed with weapons, such as crowbars and hammers, threatening staff, who were often women, and late at night when there were fewer customers.
"They would grab large quantities of cigarettes and forcibly open or remove tills, making their getaway in a vehicle waiting outside. The cars were often stolen, used for several crimes and then disposed of."
The jury heard that Scanlon and Reilly were captured on CCTV in a stolen Audi A3 at the Co-op in Dudley Road West, Tividale on 5 December Scanlon claimed it belonged to a friend, but the car was used in four of the raids and was found burnt out in Tipton three days after the last robbery at the One Stop in Ashmore Park, Wolverhampton on 4 January.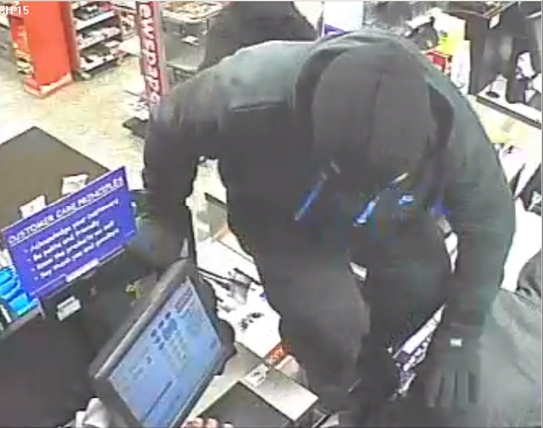 Further DNA evidence linked Reilly to another vehicle after a discarded balaclava was found in another of the abandoned cars in Bilston and the jury failed to believe the pair's web of lies.
Investigating officer DC Ryan Matthews said: "It is very satisfying that the jury have convicted Scanlon and Reilly after such a long and detailed investigation. The pair continued to deny their involvement in the raids which saw a number staff at the various premises subjected to terrifying ordeals and threats of violence.
"I am satisfied that the jail terms will see the pair removed from the streets for some considerable years, stopping them from committing further crime. Hopefully the lengthy sentences will also send a clear message to others committing similar offences that we will pursue them and they can expect to be put before the courts."