Police Will Uphold Protest Ban Outside Birmingham School
2 June 2019, 12:29 | Updated: 2 June 2019, 12:45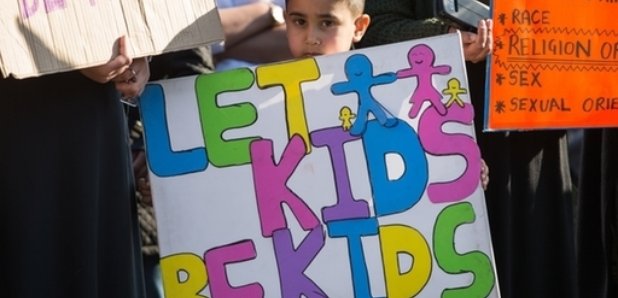 West Midlands Police say its their duty to uphold an injunction around Anderton Park primary.
West Midlands Police say it is their duty to uphold a ban on protests outside a Birmingham primary school.
An interim High Court injunction was granted on Friday preventing protests outside the gates of Anderton Park Primary where demonstrators have been gathering for weeks unhappy about LGBT lessons being included as part of the curriculum.
The injunction will be reviewed again by judges on the 10th of June.
Birmingham Commander, Chief Superintendent Kenny Bell said: "As police we have a duty to uphold the interim injunction and the power to arrest those who breach the conditions of the order – those found doing so may be sent to prison. However; we remain committed to ensuring any protests pass lawfully and with minimal disruption to pupils, parents, staff and local residents.
"We do not underestimate the impact that these demonstrations are having on many people, particularly children, and our officers will continue to be present to prevent a breach of the peace while facilitating the right to protest
"West Midlands Police will not tolerate criminal acts, and in particular hate crime. We continue to investigate a number of offences and while no arrests have been made at this stage, our enquiries are on-going. All reports and any video evidence is being assessed and investigated through a single team to ensure a consistent approach to this issue.
"We understand that policing cannot solve the underlying issues that are causing the protests, but we continue to encourage dialogue between all interested parties to seek a solution."
West Midlands Police and Crime Commissioner, David Jamieson said: "Teachers should be free to get on with teaching a full curriculum, that highlights and explains Britain's full diversity without fear of protests or threats. All forms of equality are equally important."