Moseley Man Jailed In Absence For Car Plate Scam
9 December 2018, 07:24 | Updated: 9 December 2018, 07:30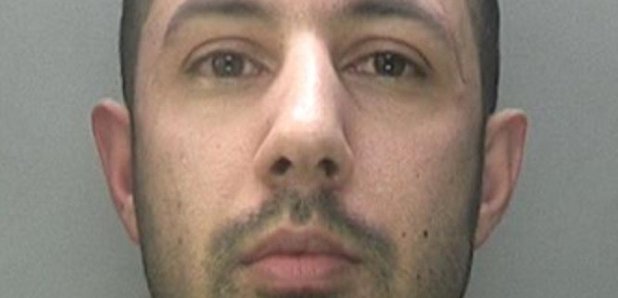 A Ferrari-driving crook who posed as a successful businessman has been convicted of running a car number plate scam that promised to net him £500,000 before West Midlands Police wrote-off his plans.
But just days before Zahid Khan's trial was due to conclude at Birmingham Crown Court the 31-year-old fled the country and left his family, including his own brothers, to take the rap for his crimes.
Khan was the high-profile ringleader of a group including brothers Aamir Khan and Ayan Ahmed, plus cousin Zubair Ahmad that stole the rights to high-value personalised plates.
The family originally stood trial earlier this year but Khan, who was granted bail by a judge, skipped the country. He was found guilty in his absence and given a 10-year prison sentence.
A jury failed to reach a verdict on Aamir Khan, Ayan Ahmed and Zubair Ahmad but on December 7 they were all found unanimously guilty of conspiracy to commit fraud.
And it can now be revealed that Zahid Khan is a convicted people smuggler having been found guilty earlier this year of bringing illegal Afghan immigrants into the UK.
Khan was stopped at Dover on 8 November 2015 in a BMW being driven in convoy with a HGV registered to his business in which five Afghan nationals were found hiding amongst a load of tyres.
Aamir Khan was a front seat passenger in the HGV which had arrived on a P&O ferry in the early hours of the morning and at Canterbury Crown Court in July both were handed 30-month prison sentences for conspiring to assist unlawful immigration.
Investigating officer, Detective Constable Rob Piper from West Midlands Police's Economic Unit, said: "I would urge Khan to take a long hard look at himself in the mirror and reflect on what he's done. He's run away and left his own family to take the punishment for a criminal enterprise he orchestrated…that kind of action must be hard to live with.
"We are working with the Home Office and Interpol to trace Khan and bring him to justice. But I would also urge Zahid Khan to do the honourable thing and surrender to police, instead of letting his loved ones do the time for his crimes."
The Khans, Ahmed and Ahmad ran their scam by fraudulently obtaining DVLA paperwork that enabled them to transfer ownership of five high-value number plates 2K, 8G, 9H, 9J and C1 without the owners' knowledge.
Zahid Khan, from Yardley Wood Road in Moseley, sold the 2K plate for £85,000 to an unwitting customer and was in the process of cashing in on the others having approached a specialist Black Country dealer offering 8G and 9H for sale.
They provisionally agreed a price until a salesman contacted a past customer to see if they'd be interested in buying 8G only to be told they already owned the plate and it was adorning a car on their driveway.
Detectives discovered Khan, who also went by the alias Adam Hussain, pressured a Birmingham car dealership salesman who he'd previously bought a vehicle from ? to harvest details on drivers with valuable VRMs.
He then contacted DVLA purporting to be the rightful owner, claiming to have lost the log book and reporting an address change.
And when Khan returned the new log book, sent out in the genuine owner's name but to his home, he was able to claim ownership of the plates by naming himself or one of his co-conspirators as the 'grantee' on V778 retention documents.
During the investigation West Midlands Police also uncovered evidence linking him to six stolen cars being run on false plates.
In December 2014 he was caught behind the wheel of a VW Golf bearing cloned plates and the following February a Vauxhall van he'd bought was found displaying number plates suggesting it was two years younger than its manufacture date.
The following December, 25-year-old Aamir Khan tried selling two Audi A3s and a Range Rover Evoque on behalf of his older brother but the auction house refused to offer him sale lots and reported their suspicions over the vehicles' identities to police.
Their fears were confirmed when officers found all three were sporting bogus number plates and police also discovered that, in May 2016, Aamir Khan swapped another stolen Evoque at a Birmingham car yard for an Audi A8 before Zahid sold it on just two days later.
The Khans tried covering their tracks by manufacturing a series of text messages between themselves and a supposed rogue car dealer in which he complained "I can't believe those cars were stolen" in a bid to suggest he'd been duped.
However, detectives found Khan had invented the car dealer and created the text exchange himself and hoped it would throw police off the trail.
Khan could often be seen showing off on the streets of Birmingham behind the wheel of a Ferrari but West Midlands Police discovered the Ferrari was a Category B vehicle, having previously been scrapped, and should never have been on the road.
And he'd also lied on four separate car insurance policies failing to disclose his criminal convictions, licence points and CCJ's against him in order to obtain cheaper cover.
At Birmingham Crown Court today Aamir Khan (25), from Shutlock Lane in Moseley, was found guilty of conspiracy to commit fraud, perverting the course of justice, plus concealing and converting criminal property. He was jailed for a total of four-and-a-half years, plus an additional 30 months for the immigration offence.
Ayan Ahmed (39), from Mickleton Road, Solihull, and Zubair Ahmad (32) from Springcroft Road, Tyseley, were also convicted for their part in the fraud conspiracy and jailed for three years and two years eight months respectively.
Associate Kaesar Ali (28) from Clarence Road, Sparkhill, was also part of the plot. He is currently serving a 10-year four month jail term for causing death by dangerous driving and money laundering. An extra six months was added to his time behind bars.
Ahmed and Ahmad were also both found guilty of trying to pervert the course of justice by concocting bogus text message exchanges with a phantom car dealer.
Det Con Piper added: "Zahid Khan portrayed the image of a legitimate businessman and a multi-millionaire…but in reality he is a career criminal and a con artist.
"He and his family and associates clearly thought they'd identified a scheme that could make them huge sums of money: the five VRMs they stole the rights for had a combined value of half a million pounds. But we uncovered the scam before he was able to cash in.
"Khan's Ferrari was seized and crushed. It had previously been written off but was illegally recovered, repaired and put back on the road. It was unsafe and potentially a danger to road users."
Zahid Khan also admitted three counts of fraudulently obtaining car insurance and was convicted on a fourth count he'd denied.