Man Admits Christina Edkins Stabbing
2 October 2013, 13:23 | Updated: 30 March 2016, 13:50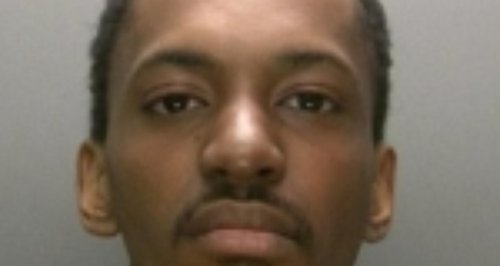 A psychiatric patient accused of stabbing schoolgirl Christina Edkins on a bus in Birmingham has pleaded guilty to her manslaughter
Phillip Simelane, from Walsall appeared before Birmingham Crown Court where he pleaded guilty to the manslaughter on the grounds of diminished responsibility

The 23 year old, who was known to police after 21 call outs to his mother's home, was detained a short time after 16-year-old Christina had been stabbed in the chest on board the number 9 bus on the Hagley Road on the morning of March 7th 2013

It had been a usual Thursday morning for the teenager, who had left her home in Ladywood and walked to board her usual bus on Broad Street, to head to Leasowes School in Halesowen.

Christina had been on the bus for just five minutes when Simelane, of no fixed abode, moved to sit immediately behind her on the top deck.
In a random attack, at 7.30am, Simelane stabbed Christina once to the chest before walking calmly downstairs and waiting to exit at the next stop on Hagley Road.

Fellow passengers rushed upstairs to offer first aid, but the teenager couldn't be saved and died at the scene.

Superintendent Richard Baker, of Birmingham Police, led the murder investigation. He said: 'It's an absolutely tragic incident and I think it's fair to say that every detective working on the crime has found it particularly harrowing... probably because of the randomness and the apparent calmness that Phillip Simelane committed the offence''


''It was immediately apparent that Simelane suffered from mental health issues, and to this day we have not been able to interview him about what happened that day.''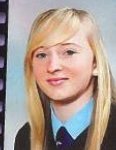 ''Christina was a beautiful, bright, caring and loving young girl who has so tragically been taken from all those who loved her - leaving a devastated family and many, many distraught friends.''

''Today's conviction gives them some answers but, like many of us, we will never truly know why on that day Simelane took the course he did.''

Simelane, was detained in a secure unit until he was deemed fit to be charged with the murder on March 15th.
A series of court appearances followed where further psychiatric reports were commissioned to determine whether the 23-year-old was fit to enter a plea.

Some seven months later, psychiatrists working on behalf of the defence and prosecution agreed that he was able to formally plead guilty to the offence of manslaughter on the grounds of diminished responsibility.
During today's hearing, The Hon Mrs Justice Thirlwall DBE sentenced Simelane to an indeterminate hospital order.
Following today's hearing, Christina's Great Uncle, Chris Melia, spoke on behalf of the family in paying tribute to his niece.
''Christina was a bright, beautiful girl who had her whole life ahead of her, she was loved by everyone,'' he said.
''She was looking forward to her school prom, she knew she wanted to go into a care profession, possibly a midwife or a nurse, and she was waiting for her exam results.
''As it turned out she never got to see that she met expectations in achieving 11 GCSEs, including an A*, five Bs and five Cs.
''She loved sports and we attended West Bromwich Albion games as a family. She was also an accomplished netball player.
''Christina's parents, Jason and Kathleen, her brother Ryan and sister Joanne, together with her wider family, continue to come to terms with this tragic loss and the senseless circumstances surrounding her death – which came just two weeks after her 16th birthday.
''To find ourselves in this position is both alien and deeply traumatic – especially for her parents. An ordinary, quiet and hardworking family has experienced the horror, distress and pain associated with such a devastating crime but at the same time, many acts of kindness – often from people who never knew Christina – have been very comforting.
''The tributes from her friends and the school have been deeply moving. Her headmaster said: 'if a school could choose its pupils it would be full of Christinas'.
''Nothing will restore Christina to us. The loss of a child is the worst thing that can happen, made even more grievous by such a senseless crime as this. The family are all innocent victims and must pay the penalty as we stand helplessly and watch the lives of people we love shattered like precious glass, knowing we can never put the fragile pieces back together.
''Now the family asks the question – when this man was discharged from prison on 13 December 2012, why was the recommendation, made a few weeks earlier by mental health experts, that he be supervised after release whilst adjusting to life back in the community, not followed up?''
Superintendent Ricahrd Baker says: ''There are a number of independent reviews currently taking place by all the agencies involved, police, probabtion, prison service and Birmingham and Solihull Mental Heath Trust just to understand exactly what support he was given in the time leading up to this stragic incident''
Here's a statement from Birmingham and Solihull Mental Health NHS Foundation Trust: ''We would like to offer our sincere condolences to Christina's family for what was an unprovoked attack on an innocent member of the public.

Phillip Simelane had previously been in receipt of care from a number of healthcare providers over a period of years. Our Trust's involvement was in the form of prison-based mental health assessments during a prison term for an unrelated offence in 2012.

What is clear, is that there are lessons to be learned for us and others involved in the care of Phillip Simelane to prevent such a tragedy happening again in the future.
As a Trust we are currently leading an external review, commissioned by Birmingham Cross City Clinical Commissioning Group, on behalf of all the parties involved and intend to report on our findings in December 2013.
We would not want to speculate on the outcome of this review, but we are clear that this will be an externally reviewed, thorough investigation and we will seek to learn from and fully implement these findings across the healthcare providers involved.''