Inspectors step in at troubled Shropshire hospital trust
23 October 2018, 16:22 | Updated: 23 October 2018, 16:30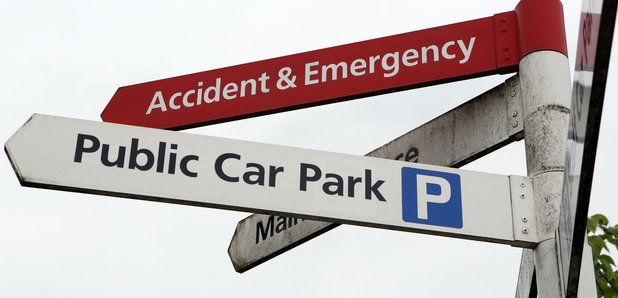 Health inspectors have been forced to take "urgent action to protect people" at a troubled hospital trust.
The Care Quality Commission (CQC) said it was taking action at Shrewsbury and Telford Hospital NHS Trust following inspections at its maternity and emergency departments.
It comes after it emerged more than 100 cases of alleged poor care are to be reviewed at the trust.
The number of cases to be considered by an independent review has risen to 104, the Health Service Journal (HSJ) reported in September.
The CQC said that it has now been forced to take action following unannounced inspections of some services at The Princess Royal Hospital and Royal Shrewsbury Hospitals.
Concerns were raised about the trust's reduced foetal movements guidelines during the inspection of maternity services.
Such guidelines direct clinicians on how to care for pregnant women whose baby's have reduced their movements.
Reduced movements can sometimes be a sign that a baby is unwell.
Meanwhile, CQC inspectors also raised concerns about urgent and emergency care at the trust, particularly with regard to the treatment and recognition of sepsis - a potentially life-threatening complication of infection.
It has placed conditions on the trust, including weekly reporting on the action it is taking "to ensure the system in place for clinical management of patients using midwifery services at The Princess Royal and Royal Shrewsbury Hospitals is effective", the CQC said in a statement.
A similar requirement has also been placed upon its urgent and emergency care services.
Professor Ted Baker, CQC's chief inspector of hospitals, said: "We remain very concerned about the emergency department and maternity services at Shrewsbury and Telford Hospital NHS Trust as a result of our inspections.
"This is why we have imposed urgent conditions on the trust's registration to safeguard patients.
"We are monitoring the trust extremely closely and continue to work with NHS Improvement to ensure patient safety improves. We will return to check on whether sufficient improvements have been made and will take further action if needed."
Full findings of the CQC's inspection will be published shortly, it said.
Dr Edwin Borman, medical director at the trust, said: "We take the safety of our patients and their care very seriously. We are addressing all the areas raised by the CQC.
"We absolutely strive to do our best for each and every one of our patients, but we know that we need to do even better. Our focus has always been on providing outstanding care, and that is true now more than ever."