England Skipper Tweets Brum Cancer Patient Ahead Of World Cup Quarter Final
7 July 2018, 07:16 | Updated: 7 July 2018, 07:33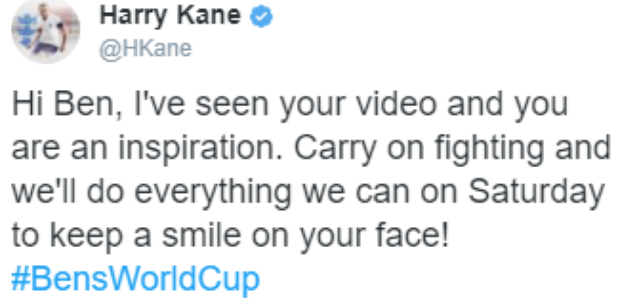 England captain Harry Kane has vowed to do "everything" to keep a young cancer patient in Birmingham smiling.
The Tottenham Hotspur star replied to a tweet by paediatric radiographer Liam Herbert, who shared a video of Ben Williams receiving a replica World Cup trophy.
The five-year-old could not walk or talk before his treatment but he asked for the World Cup as his speech returned while he was going through a course of radiotherapy for a brain tumour.
Staff at the Queen Elizabeth Hospital in Birmingham then threw him a celebration to mark the end of his treatment in which he was presented with a certificate and the replica.
Mr Herbert tweeted the video to Kane, saying: "Ben has just completed his #radiotherapy for a #braintumour, he was unable to walk and talk before his treatment but a week ago he asked for the World Cup, so we delivered. @England and @HKane can you do the same? #cancer #threelions? #ChildhoodCancer #nhs70? ?#Itscomminghome."
In the video the youngster, wearing an England shirt, unwrapped the trophy and held it close to him as a nurse helped him hold the "really heavy" replica.
To his surprise, the Three Lions star replied a day later.
Kane tweeted: "Hi Ben, I've seen your video and you are an inspiration.
"Carry on fighting and we'll do everything we can on Saturday to keep a smile on your face! #BensWorldCup."
Amazing!

Ben William's got a tweet from his #WorldCup hero @HKane having come through radiotherapy treatment @qehbham!

Let's hope #ENG can do it for the lad! #ItsComingHome #CapitalReports https://t.co/YgSk4zaCbG

— Capital Brum News (@CapitalBIRNews) July 7, 2018
England play Sweden in the World Cup quarter-final in Samara at 3pm UK time.
Meanwhile - here's what Wolves' Conor Coady, Laurie Dalrymple and Danny Batth think ahead of today's game.
.@Wolves' Conor Coady, @LaurieDalrymple and @Danny_Batth have been giving their thoughts on the #WorldCup and #ENG.

They've been speaking to #CapitalReports! #ItsComingHome

( PA Images) pic.twitter.com/zQ04yrg8dn

— Capital Brum News (@CapitalBIRNews) July 7, 2018
And finally... West Brom have a World Cup semi-finalist in their ranks...
Midfielder Nacer Chadli helped Belgium beat favourites Brazil 2-1 in Kazan on Friday.
It was his corner which set up the opening goal.
THX all for ur support during this game. We did it again. What a group of players what a support u give us. impossible is nothing when u believe. Allah is the greatest pic.twitter.com/hDhWuDe2R6

— Nacer Chadli (@NChadli) 6 July 2018