Chilcot: Birmingham Father Reacts To Iraq Inquiry
6 July 2016, 12:52 | Updated: 6 July 2016, 13:10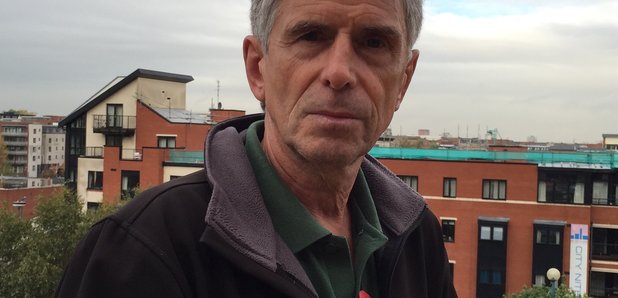 Solihull father Reg Keys gives his reaction to the Chilcot Inquiry after his son Lance Corporal Thomas Keys was killed in Iraq in 2003
The seven-year inquiry into the Iraq war has found that military action was NOT a last report and that the UK committed to military action before peaceful options had 'been exhausted'.

Sir John Chilcot's also concluded Saddam Hussein did not pose an 'imminent threat' to the UK, and that the legal bases for action was 'far from satisfactory'.
Tony Blair's Statement:
"The report should lay to rest allegations of bad faith, lies or deceit. Whether people agree or disagree with my decision to take military action against Saddam Hussein; I took it in good faith and in what I believed to be the best interests of the country.
I note that the report finds clearly:
-That there was no falsification or improper use of Intelligence (para 876 vol 4)
-No deception of Cabinet (para 953 vol 5)
-No secret commitment to war whether at Crawford Texas in April 2002 or elsewhere (para 572 onwards vol 1)
The inquiry does not make a finding on the legal basis for military action but finds that the Attorney General had concluded there was such a lawful basis by 13th March 2003 (para 933 vol 5)
I take full responsibility for any mistakes without exception or excuse.
I believe that it was better to remove Saddam Hussein and why I do not believe this is the cause of the terrorism we see today whether in the Middle East or elsewhere in the world.
Above all I pay tribute to our Armed Forces and express my profound regret at the loss of life and the grief it has caused the families."
Reg Keys Campaign For His Son:
20 year old, Lance Corporal Thomas Keys was a Royal Military Policeman and one of six Red Caps killed by an Iraqi mob in Majar al-Kabir, 100 miles north of Basra, in June 2003. He died four days before his 21st birthday.
His Father Reg Keys from Solihull, alongside other families of loved ones killed in Iraq pushed for an inquiry into the Iraq War which was led by Sir John Chilcot.
Reg Keys from Solihull lost his son Lance Corporal Thomas Keys in the war - Mr Blair altered the intellgence reports to back the case for war:
Reg spoke to Capital about what his son was like and the moment he found out about his son's death:
Reg also told us about the reasons why he pushed for the Iraq Inquiry to be held:
West Midlands Roll Call:
:: Trooper David Clarke, 19, of Littleworth, Staffordshire. Queen's Royal Lancers. (March 2003)
:: Flight Lt Kevin Main, 35, of Burntwood, Staffordshire, Pilot with RAF 9 Squadron. (March 2003)
:: Lance Corporal Thomas Keys, 20, of Solihull, RMP, 156 Provost Company. (July 2003)
:: Sergeant Norman Patterson, 28, of Staffordshire. Cheshire Regiment. (January 2004)
:: Gunner David Lawrence, 25, of Walsall. 1st Regiment Royal Horse Artillery. (September 2004)
:: Second Lieutenant Richard Shearer, 26, of Nuneaton. 1st Battalion, The Staffordshire Regiment. (June 2005)
:: Private Phillip Hewett, 21, of Tamworth. 1st Battalion, The Staffordshire Regiment. (June 2005)
:: Private Leon Spicer, 26, of Tamworth. 1st Battalion, The Staffordshire Regiment. (June 2005)
:: Sergeant John Jones, 31, of Birmingham. 1st Battalion The Royal Regiment of Fusiliers. (November 2005)
:: Marine Jason Hylton, 33, of Burton on Trent. 539 Assault Squadron Royal Marines. (November 2006)
:: Corporal Jeremy Brookes, 28, of Birmingham. 4th Battalion, The Rifles. (May 2007)
:: Senior Aircraftsman Matthew Caulwell, 22, of Birmingham. 1 Squadron RAF Regiment. (July 2007)
:: Corporal Lee Churcher, 32, of Nuneaton. 20th Armoured Brigade. (December 2008)