British Indoor Championships In Birmingham
9 February 2019, 07:34 | Updated: 9 February 2019, 11:01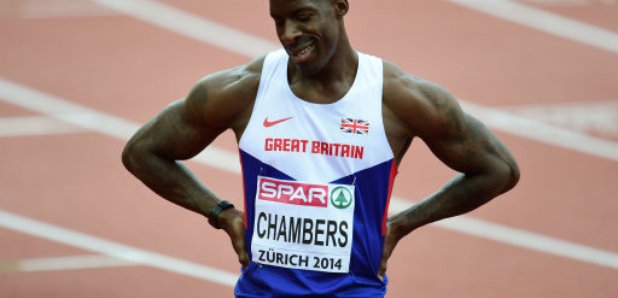 Dwain Chambers returns to the 60m at Arena Birmingham.
Nethaneel Mitchell-Blake has welcomed Dwain Chambers' racing return and insisted he does not hold his past against him.
Controversial Chambers will run in the 60m at the British Indoor Championships on Saturday and could land a shock place on Great Britain's European Championship squad.
He was banned for doping in 2004 but returned to the sport in 2006 and won the 60m world indoor title four years later.
The 40-year-old has only competed twice since retiring in July 2017 but Mitchell-Blake, who won 200m European silver last year, is eager to face him.
He said: "I'm not here to judge, I'm here to race. I'm comfortable racing against anyone who's in the lanes beside me. I don't pay attention to one name, everyone has a past and everyone has a future.
"I'm a fan of the sport and Dwain himself, a world indoor, European champion, world indoor silver medallist, European record holder and British record holder. 6.42s is not a bad time and not many have gone faster.
"I have spoken to him in the past and got tips on how to get better in the 60m.
"He was definitely one of the best British and world sprinters at one stage. I can't take too much into it, I have to focus on my own lane."
Chambers has no goals ahead of the weekend and will only think about the European Championships if he qualifies.
The top two in Birmingham will automatically be selected for next month's championships in Glasgow, as long as they meet the qualifying time of 6.60secs.
He has a personal best of 6.42 seconds and clocked 6.70 seconds at Lee Valley in December.
Mitchell-Blake was part of the GB 4x100m relay team which won the world title in 2017 but he dismissed suggestions he was the man to beat on the track.
"Me a big name? We have two world indoor champions in the field in (Richard) Kilty and Chambers and you have to respect them both," he said.
"Dwain is coming out of retirement which should be fun for him and the crowd. Richard ran the other day and is dropping times and he's a competitor.
"I'm a fan of the sport and I keep up to date with what's going on. I'm not a great 60m runner so I want to sharpen things up and get better."
Elsewhere, Laura Muir will run in the 3000m, Katarina Johnson-Thompson competes in the 60m hurdles and reigning European indoor champion Asha Philip goes in the 60m.
PA Image.