Birmingham Teen Jailed For Trying To Join Terror Groups In Syria
6 July 2018, 17:19 | Updated: 6 July 2018, 17:27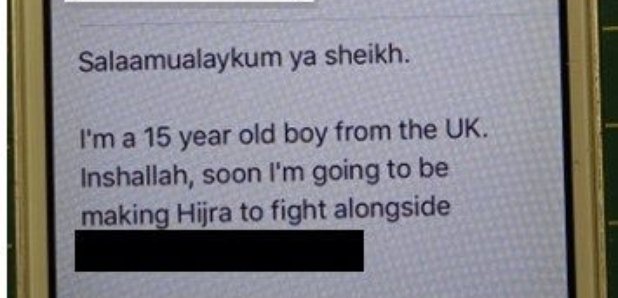 A Birmingham teenager's been jailed for trying to travel to Syria to commit acts of terrorism.
The 16-year-old boy from Sutton Coldfield - who cannot be named for legal reasons was handed a nine year sentenced after admitting the offences - which included possessing and distributing terrorist training material.
The youth was arrested at Birmingham Airport on 12 June 2017 by officers from the West Midlands Counter Terrorism Unit as he tried to check in on a flight bound for Istanbul.
When he was searched, officers found his school uniform in his rucksack and discovered Turkish money tucked into his sock.
His phone was seized and when it was examined notes and recordings were found illustrating his desire to travel and join the terrorist group.
The boy - who'd been reported missing by his family - had used his parent's credit cards to book the one-way flight and accommodation to Turkey. It's believed when he reached Turkey he then planned to make his way on to the war zone in Syria and join a proscribed organisation.
He'd also booked two other flights to Istanbul and a flight and hotel reservation in Barcelona in an attempt to elude authorities and cover his tracks.
Detective Chief Superintendent Matt Ward, who heads the West Midlands Counter Terrorism Unit, said:
"Anyone intending to travel to Syria or Iraq to fight or to commit terrorist acts against the UK or our interests should be in no doubt that the police will take the strongest possible action against them.
"Everyone who returns from taking part in the conflict in Syria or Iraq must expect to be reviewed by the police to determine if they have committed criminal offences and to ensure that they do not pose a threat to our national security.
"There is always the danger that our local people will be trained and come back and be a threat to the UK. We also need to be aware of the far reaching effects on local communities and the families of those involved.
"If anyone is concerned that a friend or family member is thinking of travelling to Syria it is very important that they tell us as soon as possible. Police and other agencies can offer support to help safeguard those who are vulnerable to radicalisers.
"Everybody has a responsibility for stopping people thinking of travelling to Syria or other warzones, including families and carers, who know them and are able to spot the early signs of radicalisation and we work in partnership with community members and groups to do this.
"The sooner we can intervene, the better chance we have of preventing people from becoming embroiled in the conflict and facing potential prosecution."