Birmingham Men Get Life For Lee Rigby Style Terror Cell
3 August 2017, 11:46 | Updated: 3 August 2017, 11:48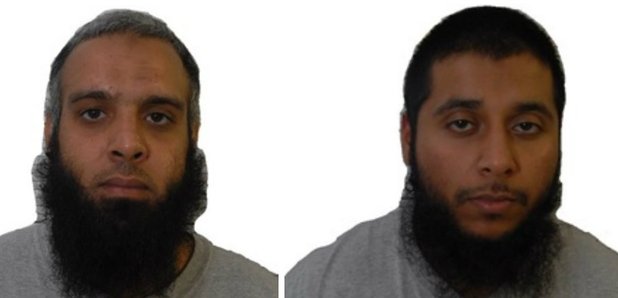 Four men from the West Midlands have been jailed for life after being found guilty of planning a Lee Rigby-style terror attack.
Naweed Ali and Khobaib Hussain from Sparkhill in Birmingham and Mohibur Rahman and Tahir Aziz from Stoke had their trial partly heard in secret plagued by accusations of police corruption.
The gang, from the West Midlands, had been preparing to strike police and military targets on British soil.
They were arrested in August last year after MI5 went to bug the car of Naweed Ali, only to uncover a pipe bomb and meat cleaver hidden in a JD Sports bag.
Convicted terrorists Ali, 29, Khobaib Hussain, 25, and Mohibur Rahman, 33, denied preparing an attack and claimed the incriminating evidence was planted by an undercover officer known as Vincent, who posed as the boss of a fake firm called Hero Couriers.
The jury had heard how the gang called themselves the Three Musketeers on encrypted Telegram exchanges.
It was led by former law degree student turned trainee gas fitter Hussain, from Birmingham, and included his friend and next-door neighbour Ali and committed jihadist Rahman, who they met behind bars.
Ali and Hussain were jailed for joining a terrorist training camp in Pakistan while Rahman, from Stoke, was in prison for possessing an al Qaida propaganda magazine which contained bomb-making instructions.
Family man and Primark salesman Aziz was keen not to be "left behind" but was only brought into the Three Musketeers plot days before the arrests.
Detective Chief Superintendent Matt Ward from West Midlands Counter Terror Unit told Capital they knew how to avoid police:
The gang had tried to evade secret services and police and even attempted to double deal with an MI5 contact of Rahman's to extract information.
But the authorities were one step ahead of them with an elaborate undercover operation at Hero Couriers, where Hussain and Ali were offered driving shifts.
The defendants were also covertly photographed meeting on a boating lake and in a park days before their arrests, the court heard.
On August 24, Hussain appeared restless and complained to Rahman: "We gota do something akhi (brother) just nothings really happening."
Two days later, Ali arrived for his first shift at Hero Couriers and left his Seat Leon car at the Birmingham depot before MI5 moved in to conduct a search and "technical" operation - bugging the vehicle.
Instead, they found the JD Sports bag in the foot well containing a partially-constructed pipe bomb and meat cleaver with the word "kafir" - non-believer - scratched on it in readiness for an imminent attack.
An imitation gun, cartridges, a 9mm bullet, latex gloves and industrial tape were also recovered.
Police immediately arrested all four men and seized a large sword which had been stashed in Aziz's car.
Prosecutor Gareth Patterson QC said he was a "highly-radicalised, intelligent and angry man who believed he had a duty to take action" but got careless and left his DNA behind.
Aziz, of Wulstan Road, Stoke, claimed he was just doing research when asked to explain what he was doing with pages from an al Qaida pipe bomb-making article. He also claimed the sword in his car was for self-defence.
The four-month trial was held partly in secret in the interests of national security as two anonymous witnesses gave evidence behind closed doors.
The trial was also disrupted over fears jurors might be unfairly influenced as the country was rocked by four terror attacks in Westminster, Manchester, London Bridge, and Finsbury Park.