Agbonlahor Apologises For Behaviour And Quits As Villa Captain
28 April 2016, 16:25 | Updated: 28 April 2016, 17:18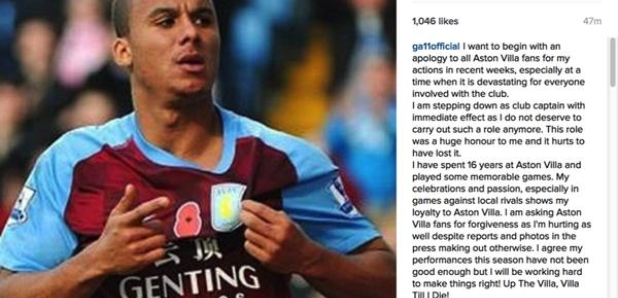 Aston Villa captain Gabriel Agbonlahor has stepped down from his position.
In a post on Instagram he's apologised for his action in recent weeks.

It's after the captain was pictured at a laughing gas party - allegedly on the night of the club's relegation to the Championship.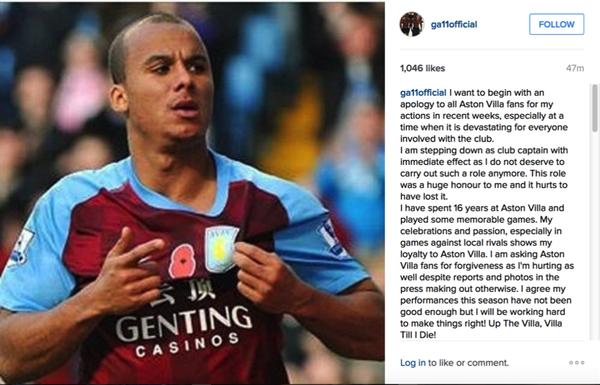 The forward has also been hit with a substantial fine and been reminded of his responsibilities by the club, who have now lifted his suspension.

Villa banned Agbonlahor from the club after he was pictured apparently partying immediately after their relegation from the Barclays Premier League earlier this month.

He wrote on his Instagram account: "I want to begin with an apology to all Aston Villa fans for my actions in recent weeks, especially at a time when it is devastating for everyone involved with the club.

"I am stepping down as club captain with immediate effect, as I do not deserve to carry out such a role anymore. This role was a huge honour to me and it hurts to have lost it.

"I have spent 16 years at Aston Villa and played some memorable games. My celebrations and passion, especially in games against local rivals, shows my loyalty to Aston Villa.

"I am asking Aston Villa fans for forgiveness as I'm hurting as well despite reports and photos in the press making out otherwise.

"I agree my performances this season have not been good enough but I will be working hard to make things right! Up The Villa, Villa Till I Die!''

Agbonlahor will be available for selection from Monday and will not feature in Saturday's trip to Watford as Villa look to avoid a club record-equalling 11th straight league defeat.

A club statement read: "Aston Villa Football Club can confirm the investigation concerning Gabby Agbonlahor's conduct has reached a conclusion.

"The player has received a substantial fine and been reminded of his responsibilities as a professional footballer at Aston Villa.
"His suspension is now lifted and he will be available for selection from Monday. Gabby has also advised he wishes to relinquish the role of club captain.''

The 29-year-old had previously been investigated, with Villa opting to take no further action, after being snapped on holiday in Dubai in March appearing to hold a shisha pipe.

Last month he was also put on a personal fitness plan by caretaker boss Eric Black after he said Agbonlahor was not in the condition to aid Villa's failed survival bid.

Agbonlahor is Villa's longest serving current player and their record Premier League goalscorer, having netted 73 times since his debut in 2006.