Union J On Being In Kick-Ass 2: "It's Crazy To Think We're In A Hollywood Film" - Audio
14 August 2013, 10:45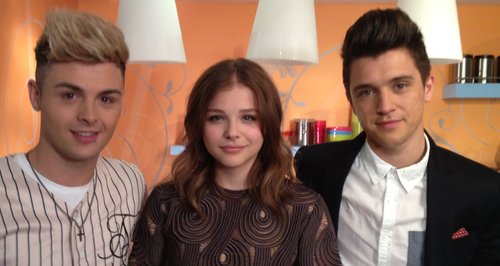 The UK four-piece say they can't believe they have a cameo in the new comic book adaptation.
Union J have opened up about their excitement at featuring in new superhero film Kick-Ass 2 as well as having their song 'Carry You' on the movie's soundtrack.
The UK four-piece's debut single 'Carry You' is on the film's soundtrack and the boys themselves even have a cameo in the Marvel Comics adaptation, while they admit it is "weird" that audiences in America and around the world will be introduced to them for the first time.
"Yeah massive news! We didn't even know we were going to be in the film," Union J's Jaymi Hensley revealed exclusively to Capital FM. "They tricked us and said, guys we're going to just re-shoot 'Carry You' just because it'll maybe be nice to have two videos later on in the year.
"Went and shot this video and the next week they're like, 'By the way it's being used in Kick-Ass 2'," he explained. "So yeah, really happy and very excited.
"We're huge fans [of Kick-Ass]," fellow Union J star Josh Cuthbert continued. "We all watched it together the other day and had a massive laugh.
"It's actually crazy to think that we're in a Hollywood film."
Band member George Shelley explained that the strangest thing for them is that audiences they haven't even encountered yet will be seeing and hearing about Union J for the first time.
I think that's the weird thing for us, that people all over the world, like people in Japan are going to be knowing who we are," he added.
Listen to Union J chatting to Capital's showbiz reporter Kevin Hughes about Kick-Ass 2 below:
Union J chat about starring in Kick-Ass 2...
Earlier this week Kick-Ass 2 star Chloe Moretz praised the band after getting to meet them for the first time, as well as hailing 'Carry You' as a great pop song.
Union J are now working on new music and launch their 'Magazines And TV Screens' tour in December.