Tulisa Joins Gary Barlow And Louis Walsh For Dinner After The X Factor Deadlock Drama
10 October 2012, 12:30
The 'Young' singer wears a classic black dress as the judges meet up to discuss the deadlock drama.
Tulisa Contostavlos and the rest of The X Factor judges enjoyed a dinner together last night (9th October) – just 48 hours after the programme was engulfed in drama during deadlock.

The 'Young' singer was pictured leaving the Arts Club in London after a dinner meeting with Gary Barlow, Louis Walsh and Nicole Scherzinger.

Producers of the ITV show are also reported to have been present to discuss the fallout from Sunday's show (7th October), which saw Carolynne Poole leave the show by public vote.

The competition went into deadlock when Louis could not decide whether to get rid of Carolynne or Rylan Clark. After initially saying he wanted to keep Carolynne, he the changed his mind.
Tulisa Contostavlos leaves dinner with The X Factor judges: (picture: WENN)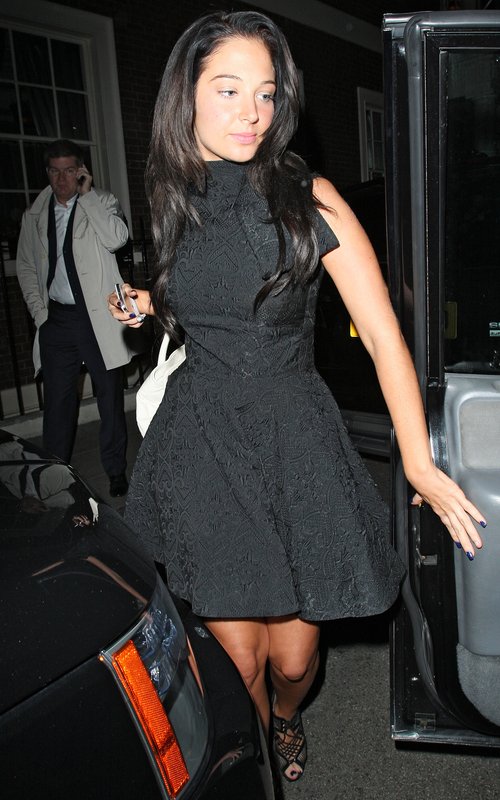 Gary Barlow then stormed off stage and fans of the show were also outraged by the outcome, with many claiming that producers had interfered with the decision – claims that have been denied by The X Factor.

A close friend of Gary's told the Daily Mail that the dinner had been planned for months, but the Take That star used it to speak to Louis about Sunday's drama.

"He wants The X Factor to be all about the music. It was a pretty frank discussion and at the beginning he could barely mention Louis' name," the friend said.
Nicole Scherzinger and Louis Walsh dine out with The X Factor judges: (picture: WENN)


"But they have made some agreements and Gary is confident nothing like what happened on Sunday will happen again. With no Simon Cowell around, it is clear he is calling the shots and is head judge."

Tulisa went for a classic look at the dinner wearing a black dress, while Nicole wore a patterned skirt with sheer black top.
The X Factor continues on Saturday.