Timbaland Dishes On New Nas Song 'Sinatra In The Sands' With Jay-Z And Justin Timberlake
24 July 2013, 15:24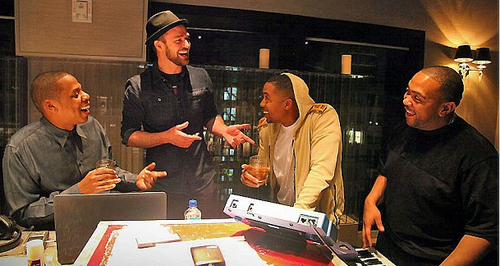 The producer says the 'SexyBack' singer sounds just like the legendary crooner in the new track.
Timbaland has revealed that Nas has teamed up with Jay-Z and Justin Timberlake for a new song called 'Sinatra In The Sands' for his new album.
The producer was seen in the studio with the other three artists recently as speculation of a collaboration broke, and he has now dished full details on the track.
"It's completely stupid," he tells RevoltTV. "Justin sounds like Frank Sinatra."
He was also quick to point out why he has not got involved with any new Aaliyah music following her death in 2001 and how he is the only one who could make it happen.
"It won't work," he added. "Aaliyah music only works with its soulmate – which is me."
Listen to Timbaland talking about Nas, Drake and Aaliyah in the video below:
Meanwhile, Justin is also preparing to release the follow-up to his 'The 20/20 Experience' in September and released new single 'Take Back The Night' earlier this month.
He was also seen on set of a new music video last week.