The Weeknd's In Puppy Love As He Gives Fans First Glimpse Of New Companion Following Selena Gomez Split
6 November 2017, 12:58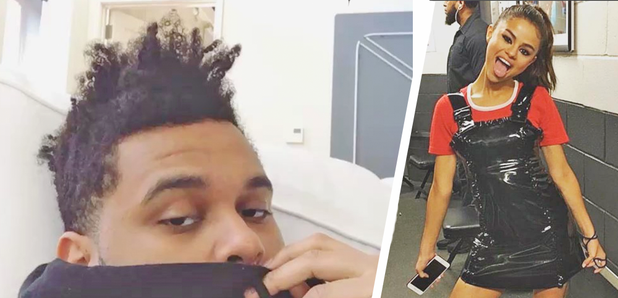 Well this is one way to move on from your relationship!
Whilst Selena Gomez and The Weeknd's relationship status still hasn't fully been cleared up by either of them, all things suggest they've split up.
Since the rumours broke, Sel has been pretty attached to ex Justin Bieber and now The Weeknd has got himself a new companion to help mend his potentially broken heart...a gorgeous new puppy!
> Selena Gomez Went To Watch Justin Bieber Play Hockey & No One Was Ready For What She Wore
The Candian star adopted the young Doberman Pinscher recently and took to Instagram to share his first snap of the young pup...
Alongside the pic, The Weeknd wrote 'Handsome Devil', and whilst we're in complete agreement that this is one seriously handsome hound, we're not sure whether Handsome Devil is the puppy's name or nah?
Fans flocked to his Instagram to comment about how adorable the little lad is, with one Insta user writing 'Oh wow, gorgeous dog' whilst another offered their dog sitting duties writing, 'In love! I would dog watch for you just in Brampton! I've had dobes my whole life!'
But fans have been concerned about the puppy that Selena and The Weeknd adopted together earlier this year. The little King Charles Cavalier Spaniel is named Charlie and was spotted on Selena's Instagram story back in September...
Selena having fun with her new puppy, video from Selena's Instagram Story https://t.co/sdhCyIt1H7 pic.twitter.com/nzn9SsY9Yu

— Wasa Miroshnichenko (@SELENATORSS) September 10, 2017
But fans worried as to what might have happened to Charlie now that the couple have split. Did one of them keep Charlie or did they have to give him up for adoption after failing to reach an agreement on who should have him?
#WhereIsCharlie
The weeknd is so soft he lit adopted a puppy after having his heart broken why are we not hyping this tf up

— sherry (@finnhudstan) November 3, 2017
Just realized Selena and The Weeknd got a puppy together. Poor guy.

— Kelsey Voissem (@kelseyvoiss) November 3, 2017
Selena and The Weeknd for real got a puppy together and everything. I'm D E V A S T A T E D

— holls (@holls327) November 3, 2017
> Download Our Fancy New App For All The Latest On Selena & The Weeknd's Relationship Status!
Whilst you're here, check out The Weeknd getting caught dancing with someone who wasn't Selena recently...