The Wanted's Nathan Sykes Returns From Throat Surgery For Summertime Ball 2013 Performance
10 June 2013, 12:36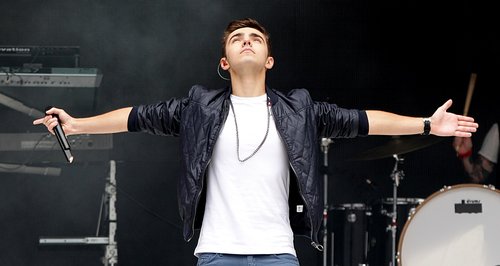 Join Capital as we relive the moment Nathan Sykes made his triumphant return to the band at the Summertime Ball 2013.
The Wanted's Nathan Sykes made his highly anticipated return at the Summertime Ball 2013, much to the surprise of the 80,000 in attendance, and now you can relive the band's youngest member's return to the stage.
Earlier in their set the band had apologised for Nathan's absence, explaining that he was still recovering from his recent throat surgery, but fans could sense something was about to happen when the boys stood silently before the middle eight section of their hit 'I Found You'.
To rapturous applause from the Wembley Stadium crowd Nathan emerged from underneath the stage and soaked up the atmosphere as he finally returned to The Wanted fold after months back at home recovering and resting his voice.
Anticipation had never been higher as the 20 year-old took his time and slowly raised the mic up to his face before belting out the first note to his now-signature part of the Vodafone Big Top 40 hit, knocking the high note well and truly out of the stadium.
Watch as Nathan Sykes belts out the high note to herald his return at the Summertime Ball below (Credit: Derek Bremner):
As Nathan got the entire of Wembley Stadium behind him for his huge return, Max, Siva, Tom and Jay cheered him on from the sides before rejoining him for the song's climax, and going on to perform both 'Glad You Came' and new single 'Walks Like Rihanna' to round off their set as a reunited five-piece.
Check out a picture of the moment Nathan was reunited with his bandmates on stage below (Credit: PA):
The Capital FM Summertime Ball 2013 also saw performances from some of the biggest names in music including Robbie Williams, Justin Timberlake, Taylor Swift and Jessie J.
Keep it Capital as we recap all the action from Wembley Stadium in our Summertime Ball area.
Tune into Capital TV, on Sky channel 388 and Freesat 517, tonight (10th June) from 7pm for all the best bits from the Summertime Ball.