The Vamps Talk Hanging Out With Selena Gomez On Tour: "We All Went In The Bath!"
21 September 2013, 08:00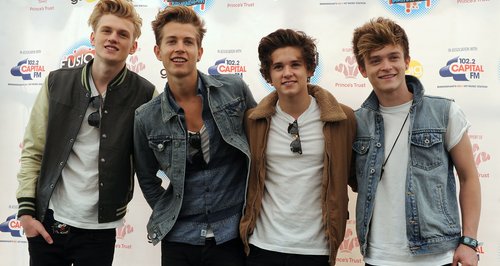 The 'Can We Dance' band hung out with the US singer on tour and joke that they even shared a bath.
The Vamps have opened up about getting to hang out with Selena Gomez on tour recently, and claimed they even got to try out the bath on the US star's private tour bus.
The 'Can We Dance' four-piece, who have been making waves in the UK over the summer, supported Selena for her two UK dates on the 'Stars Dance' tour at London's Hammersmith Apollo earlier this month.
Brad, Connor, James and Tristan say they got to try out the tub in Selena's private bus after the 'Come & Get It' singer invited them to see her tour transport.
"She invited us back to her tour bus and she's got a bath on her bus," The Vamps singer Bradley Simpsons told the Irish Independent. "It was amazing!
"We all went into the bath together," guitarist James McVey added, before Bradley quickly revealed: "We may have been joking about the bath."
The Vamps are set to release their debut single 'Can We Dance' on 29th September.