Ouch! The Vamps' Brad Simpson Rushed To Hospital After Nearly Breaking His Nose On Stage
8 July 2014, 11:30 | Updated: 8 July 2014, 11:36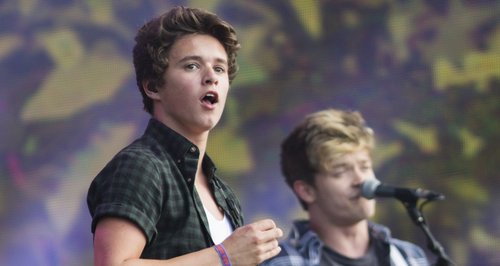 Being a popstar is a dangerous business – Brad Simpson from The Vamps nearly broke his (lovely) nose while performing at a festival gig!
Yikes, we hope Brad Simpson from The Vamps has insured his lovely face – he suffered a nasty whack on stage at the weekend and was rushed to hospital as soon as the band finished their performance.
Brad was giving the show his usual 110% of energy at the British Summer Time festival in Hyde Park at the weekend when he crashed into bandmate James McVey's shoulder while running backwards down the stage.
Eagle-eyed fans managed to spot the exact moment the injury happened - we can ACTUALLY feel his pain from watching it.
Brad was rushed to hospital after the gig amid fears he had broken his nose, after he refused to let medics take him off stage and bravely finished his set for the fans despite bleeding. That's commitment!
The #Vampettes were understandably worried about Brad's hospital dash, but he took to Twitter to reassure them that he was on the mend.
Hahaha im fine i just thought it would be a good idea to run into James' shoulder, then bleed a bit. Well done brad Awesome gig though

— Bradley Will Simpson (@TheVampsBrad) July 6, 2014
Brad was back at the venue an hour after being looked at – thankfully he hadn't done any major damage to his face. He told The Sun, "I was in a lot of pain because I didn't see it coming. But I wanted to stay on for the rest of the show. My lip is bruised and my ego has taken a bit of a hit but it was amazing to perform at Hyde Park."
James, on the other hand, isn't feeling too guilty about his shoulders of steel - he posted a tweet using the moment of impact as a Meme. Poor Brad - we hope you feel better soon!
Going to my cousin's wedding wearing a white shirt and ripped jeans as I own no suit currently. Feeling like :( pic.twitter.com/GqNkpqWhQD

— Liquid Chicken (@TheVampsJames) July 7, 2014