EXCLUSIVE: The Chainsmokers Just Revealed Their Thoughts About THAT Lady Gaga 'Beef'
19 October 2016, 14:57 | Updated: 21 March 2017, 10:54
After Lady Gaga replied to the duo on Twitter, we asked them their thoughts on the whole situation...
The Chainsmokers are one of the biggest acts of 2016 having dominated the charts all year.
Having had their two recent hits 'Don't Let Me Down' and 'Closer' hit serious heights, it's fair to say the duo are a pretty big deal.
So in a recent interview, when the pair aka Alex Pall and Drew Taggart commented that they weren't fans of Lady Gaga's recent track 'Perfect Illusion', fans took notice.
The exact quote from their Rolling Stone interview reads:
'a label rep asks what they think about Lady Gaga's single "Perfect Illusion." "It sucks," Pall says. Taggart, more diplomatic, says, "She's a great artist – like, Jeff Koons made a sculpture of her.  . . .". "I agree," Pall says. "And a lot of talented people worked on that song. But  . . ." he trails off, scrunching up his nose like something's gone rancid on the seafood tower.'
Let's just say that fans weren't too happy about that.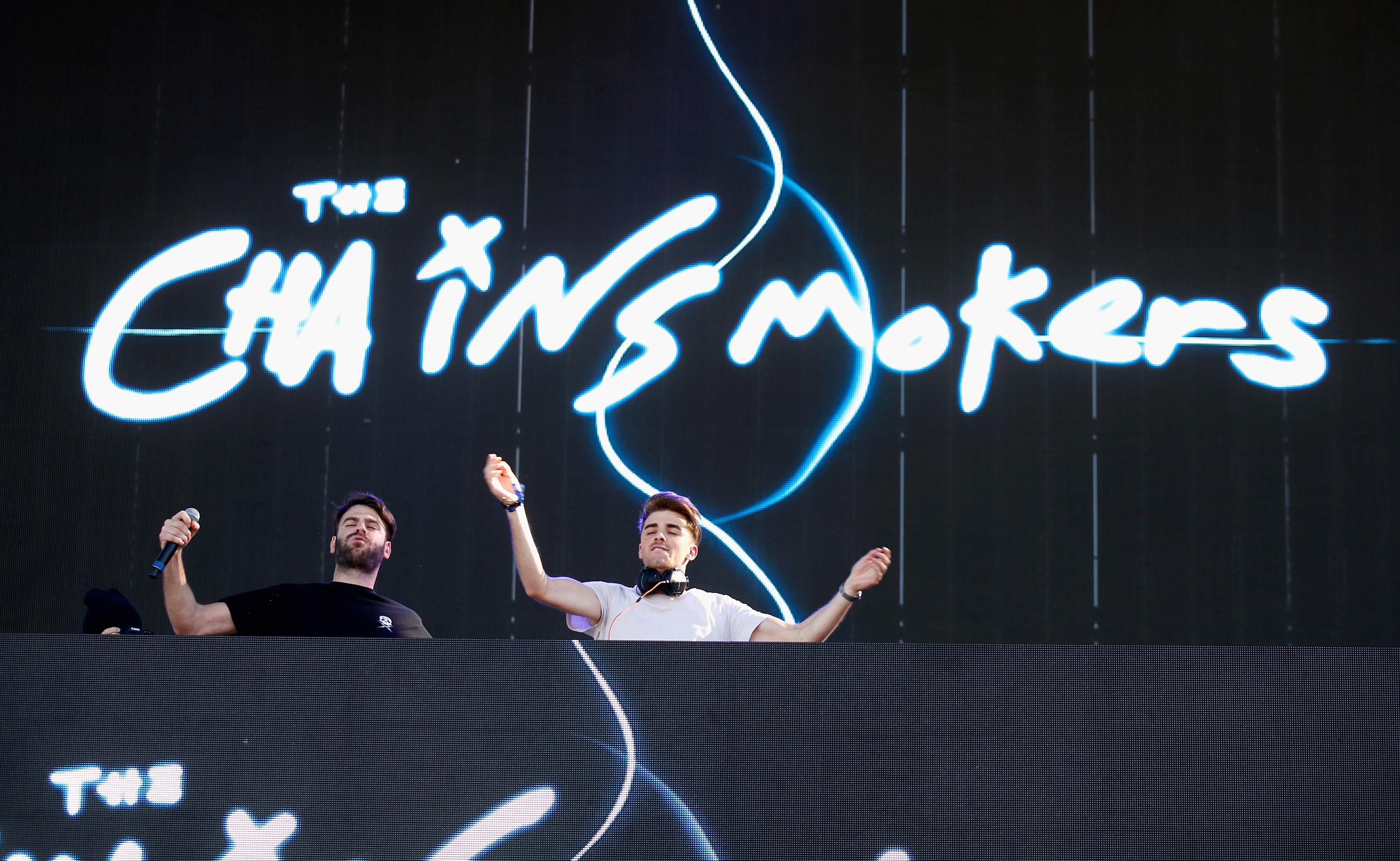 Picture: Getty
Lady Gaga herself caught wind of the comments and actually responded via this cheeky tweet promoting her latest single...
#AYO @TheChainsmokers maybe u guys'll like this 1 better #NowPlaying
Apple: https://t.co/u0r8kOeLCr Spotify: https://t.co/iCwMjenJut

— JOANNE (@ladygaga) October 18, 2016
But that just kicked off the hashtag #GagaEndedTheChainsmokersParty and people were pretty scathing...
How can she end them when they haven't even started? #GagaEndedTheChainsmokersParty pic.twitter.com/QnvgquSyHX

— natmare (@pxrplesunshine) October 18, 2016
Gaga putting the final nail in the coffin to the Chainchokers career #GagaEndedTheChainsmokersParty pic.twitter.com/eUTByr9AVp

— JOANNE (@HoIyIIIusion) October 18, 2016
Gaga serving the tea, plenty to go around! #GagaEndedTheChainsmokersParty pic.twitter.com/2TizeDS3AT

— lady gaga (@sxkstruh) October 18, 2016
The duo have since responded to Gaga's tweet with one of their own...
Haha @ladygaga RESPECT

— THE CHAINSMOKERS (@TheChainsmokers) October 18, 2016
But in an exclusive chat with The Chainsmokers, we asked them about the whole incident and they revealed their thoughts on it all.
Discussing Lady Gaga's tweet, Alex said, "Respect to her [Lady Gaga]. I thought that was a clever and cool response back. I think she's an amazing artist and have nothing but respect for her. Honestly, I was so surprised that anyone gave a s**t about my opinion."
He went on to add, "It was never my intention to create all this drama, but she handled it perfectly and we definitely aren't looking for any more escalation."
Halsey, who performed vocals on The Chainsmokers' track 'Closer', then sent this tweet to Lady Gaga in order to make her feelings about Mother Monster plain for all to see...
Lady Gaga is an icon and forever one of my greatest idols. I can't wait to see where her new era takes us. #JOANNE

— h (@halsey) October 18, 2016
To which Gaga then responded...
@halsey Hey Girl! We can make it easy if we lift each other! thanks for the shoutout! #AYO

— JOANNE (@ladygaga) October 18, 2016
Around the same time as all of this was kicking off, Drew's Twitter was hacked and he appeared to send flurry of very offensive tweets to Nicki Minaj, Lady Gaga and Halsey.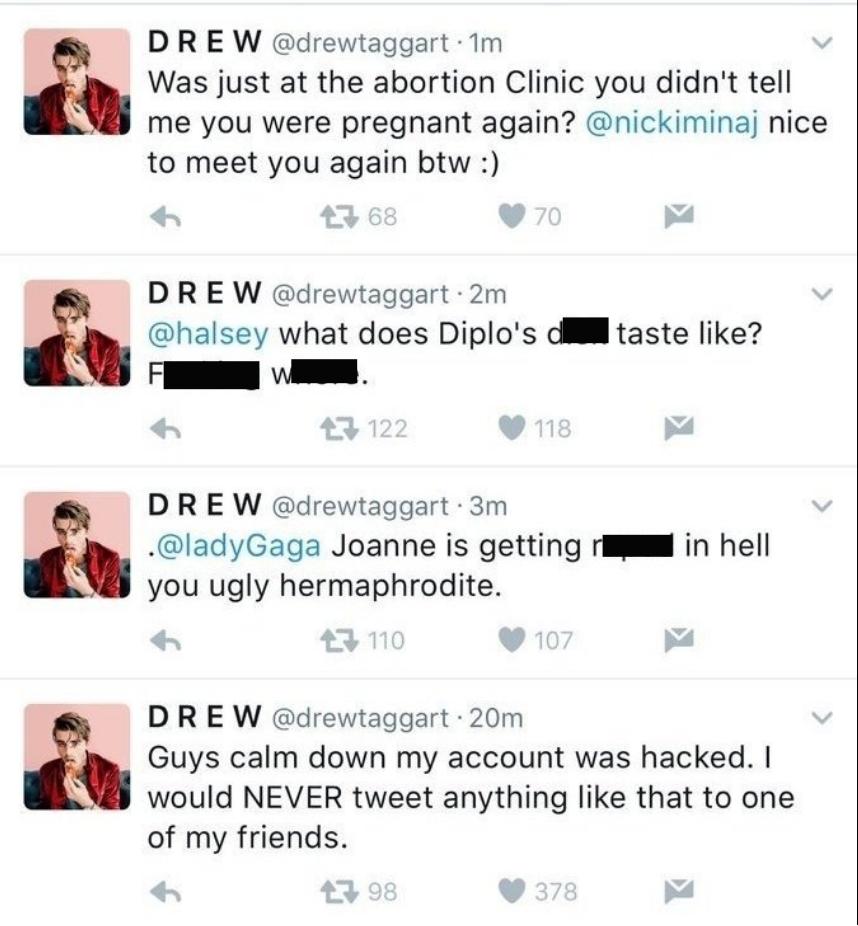 Wow. Talk about hackers trying to escalate a situation!
Whilst we caught up with them, the guys also spoke to us about Kanye West's reaction to their song named after him, which was released back in 2014.
After we asked them whether Kanye ever got in touch about the song, Drew explained, "Kanye is one one of our music heroes, so we were a little concerned that he might take it the wrong way."
"So we sent his manager the track before and the one thing he said about it was 'It would be cool if they don't make fun of me in the video'. So that's all we know and that's the only acknowledgement we've ever received for that song."
"But that's better than a lawsuit!"
The Chainsmokers also have a HUGE fan who goes by the name of Justin Bieber and the pair explained how their relationship has grown over time.
Alex told us, "We were playing a Vegas show and our videographer facetimed with Justin at the show. He was like 'Tell them I say whats up' and then he quoted the Kanye song 'Famous' and said 'Tell The Chainsmokers we might still have sex, I made those b*****s famous'".
"It's hysterical though cos he kinda did. So it's all love and we miss him - he's making great music right now"
The Chainsmokers will be joining Roman Kemp live on Capital from 7pm tonight (Wednesday 19th October).
You may also like...