Taylor Swift - 'Look What You Made Me Do'
28 August 2017, 10:15 | Updated: 28 August 2017, 10:30
O.M.G. It was worth the wait right?
Wow. Taylor Swift knows how to make an impact when it comes to new music videos doesn't she. Who remembers the excitement of when 'Bad Blood''s cameo-full video was premiered or the pure joy of 'Shake It Off'? Well...now we have 'Look What You Made Me Do'.
The video was premiered at last night's VMAs and within just a single night, it has already notched up an incredible 13 MILLION views.
> MTV VMAs 2017 Winners: Check Out The Full List Of Winner's From This Year's Awards
We'd literally have to write a checklist of everyone and everything Taylor referenced in the epic 4 minute video but here are the highlights: Kim Kardashian's robbery (YUP), Katy Perry never having won a Grammy, Tom Hiddleston's 'I Love TS' t-shirt, the time Kanye interrupted her speech and more.
In the video we see Taylor laying in a bathtub surrounded by diamonds...who remembers how Kim K's robbery went down then? Yup, she was tied up in a bathtub, bound and gagged, whilst millions of dollars worth of diamonds were stolen from her Paris apartment!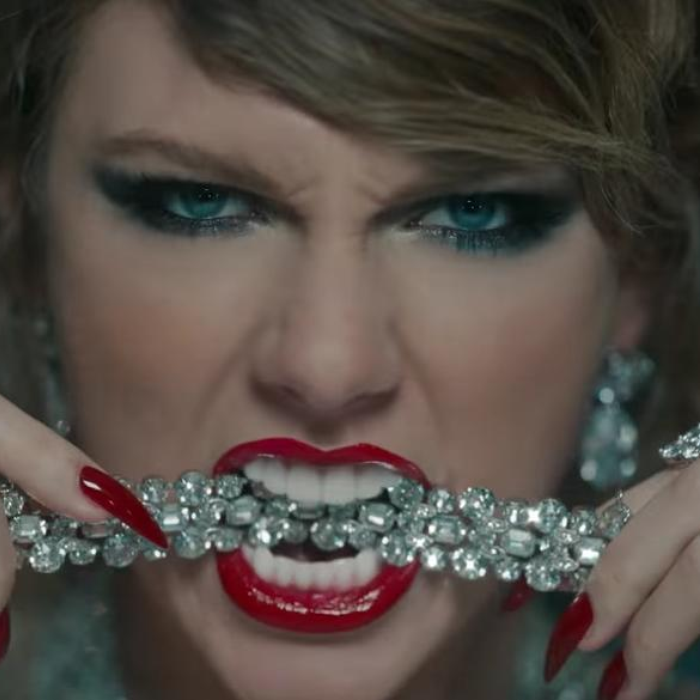 Pic: Taylor Swift/YouTube
Coincidence?
*Kim Kardashian gets robbed*
Taylor swift: pic.twitter.com/0ip9E77u0p

— lane (@Lanerlicious) August 28, 2017
taylor swift and kim kardashian pic.twitter.com/e3Ttjeczif

— r e p u t a t i o n (@liannetigas13) August 28, 2017
Taylor Swift's hidden messages in music video for Look What You Made Me Do savagely take down Kim Kardashian and Tom Hiddleston …

— viral news 1to1only (@viralnews1to1on) August 28, 2017
Omg taylor's LWYMMD music video truely referring to Kanye West and Kim Kardashian. It's more obvious than the song lyrics itself

— Amirul Walsh (@amirullfarhan) August 28, 2017
> You Want Even More Gossip From The VMAs? Then Check It All Out On Our App Right Here!
Let's rewind the clock to when Taylor Swift's videos were a little less...umm..intense.