The 6 MOST-ASKED Questions During Taylor Swift's BRITs 2015 'Blank Space' Performance Revealed!
26 February 2015, 02:15 | Updated: 26 February 2015, 08:48
Taylor Swift performs 'Blank Space' | BRIT Awards 2015
04:12
The '1989' songstress kicks off the 2015 BRIT Awards in style with a killer performance of her recent Vodafone BIg Top 40 smash!
Well if you're looking to kick off an WORLD-FAMOUS awards bash in style Taylor Swift is a pretty safe bet, and she didn't disappoint! Our very own Pop Princess gave a flawless performance of her recent Vodafone BIg Top 40 smash hit to open this year's show at the O2 Arena in London.
A live broadcast wouldn't be the same without a mass meltdown on Twitter and this time around it was Tay Tay's opener which had the Twittersphere asking some VERY important questions.
1. First up.. How long was that frickin' catwalk! Forget intense gym workouts, a quick stroll across the O2 Arena will sort you out.
2. Suits you Tay Tay! The pop princess was definitely rocking the #GirlPower vibe dressed all in black.
Taylor swift on the Brits...HOTTT

— Demi af (@Its_Immie) February 25, 2015
3. Did we miss an important weather warning? It was all about the thunder and snow storms while taylor was filling in her blank space.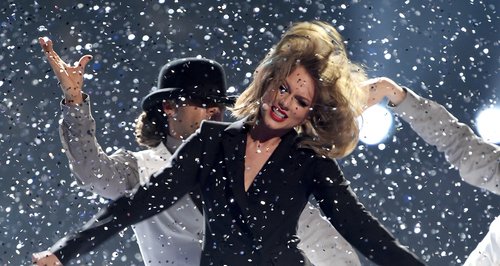 4. Also hello Mr Hot Stuff! Exactly who was this hot guy that appeared just for the final few moments of the performance? Was it the ACTUAL guy from the video? We want more of him next time please...
#BRITAwards brilliant start to the brits love Taylor swift, she was amazing and the guy from the video at the end made it haha #amazing

— Niamh dowling-jones (@niamhdowlingg) February 25, 2015
5. Exactly what were the backing dancers wearing on their heads? Those hats a definitely melting at the sides right?
Wtf have Taylor swifts dancer got on there heads #Brits

— david smith (@smittyshooter) February 20, 2013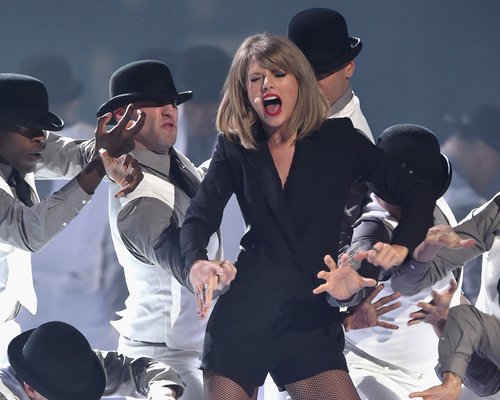 6. And finally. What was that ring on Tay's finger? Hello!??? Something you need to tell us?