This Is How Much It'd Cost To Go To Every Single Taylor Swift 'Reputation Tour' Date
13 March 2018, 17:43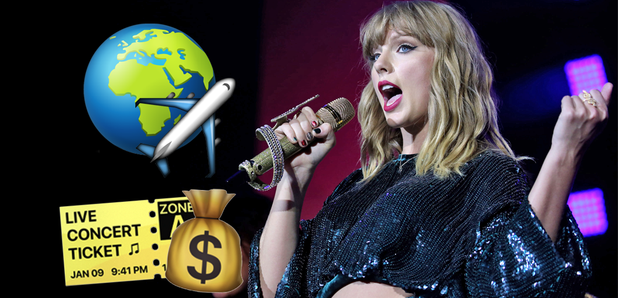 With Camila Cabello and Charli XCX supporting Tay Tay, we kinda wanna go and see every single date of this tour, but have we got the funds? (Hint: nope).
Taylor Swift is undoubtedly one of pop music's biggest and best stars. Consistently releasing hit after hit, Tay is also a dab hand when it comes to live perfromances, so getting a ticket to see her live shows is an absolute must for any music fan.
For her upcoming 'Reputation Stadium Tour', Taylor announced that she'd be supported by Camila Cabello and Charli XCX, meaning we're not surprised if you now wanna get tickets to every single damn date. But how much would it cost for you to actually do that?
> Taylor Swift Is Bringing Her 'Reputation' Stadium Tour To The UK - Grab Your Tickets ASAP!
Well we put our stats hat on and worked it all out so you don't have to! Aren't you lucky...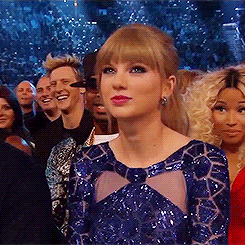 (GIF: Giphy)
The first date of the tour takes place in Glendale, Arizona, so as we're flying from the UK, the average cost of a flight from any UK airport is about £830. Plus we've gotta buy an actual ticket to the show at £30 (sitting in the back row obvs as this is gonna cost us a bit).
Then we've gotta get a hotel and luckily for us there's one right next to the airport for £75, so that'll help us with our flights across America shortly after the show finishes.

We then head from Phoenix to Santa Clara, California and that flight will cost us about £140. After another show ticket at £30 and a charming motel for the night at £67, we've already racked up a total of £1172!
Thankfully for us, Taylor is doing two nights at the Levi's Stadium in Santa Clara, so we avoid a flight the next day and just have to grab another show ticket at £30 and another night at the lovely motel we're in (£67).
Taylor's next show location is also in California, so if we hitch-hike a ride up the coast for 5 hours to Pasadena and head to our £69 hotel, we'll be at the Rose Bowl in our £30 seats ready to scream along to 'LWYMMD' all over again.

Another show at the Rose Bowl the next night will cost us £30, plus we'll stick with our £69 hotel, because then we're off to Seattle, Washington for a show at the CenturyLink Field. Those flights will cost us £180, but it's been worth it so far, especially afte Camila waved at us.
The hotel in Seattle will set us back £82 for the night, not forgetting our ticket to the show at £30 and we've now sung 'Shake It Off' six times with crowds across America - life could be worse!
Our stay in Seattle is short lived as we take off to Denver, Colorado and watch an unbievable show at the uniquely-named Sports Authority Field at Mile High. Taylor even performed an acoustic version of '22' at this one, which was so special.

With £30 leaving our pocket for the show and our stay in Denver's finest £62 per night hotel, we then head off to the final stop in America before we head back over to the UK. Chicago is our destination and the flights cost us a bargain £100.
Another £30 ticket to the show and an £82 hotel in downtown Chicago (x2 as we'll be there for a couple of nights) has racked our total up to a tasty £2175. We spotted Selena Gomez & Justin Bieber in a restaurant which made this show even better.
BUT THEN WE"RE BACK OFF TO THE UK! HOME TIME!

The UK leg of our journey kicks of in Manchester and flying back to England has cost us £786. But we're in Manchester and as we've got mates all over the country, we can sleep on some sofas to save money. Get in!
We'll grab a ticket for both nights at Manchester's Etihad Arena (£60) and then catch a quick flight over to Dublin for £72 and another £60 for the two shows at Croke Park.
Another £72 flight back to England and we're gearing up for a MASSIVE show at Wembley Stadium alongside 80,000 other screaming fans. We've barely got any voice left, but that won't stop us belting out 'Blank Space' at the top of our lungs. Imagine how much we screamed when Ed Sheeran showed up too!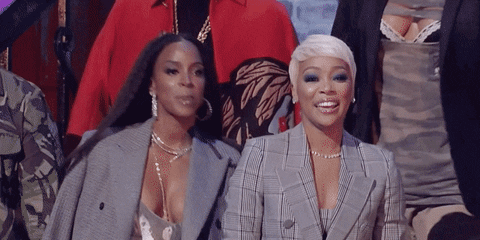 (GIF: Giphy)
We've forked out another £60 for those two shows and then we're heading back over to America - we're kinda jetlagged but we're rolling with it because Taylor Swift is life.
Our flight into Louisville, Kentucky has cost another £800 and then we've bought tickets to Tay's remaining 25 dates at £30 each, so our total is now at £4835.
It turns out truck drivers in America & Canada are very kind folk and we've managed to hitch-hike ourselves all the way around the country, lucky us! Hotels on the other hand are not cheap, especially this posh one we had to stay at in Toronto, so we had to cough up £2500 for the remaining tour dates.
It's lucky that we're the craziest Taylor Swift fan out there, because we're not sure who else would pay all this money to see their idol. For our troubles, Taylor was even kind enough to take a selfie with us (see below but just imagine that we're Leslie Jones) - what a life we live!
Having spent another £800 on flights back home and a t shirt to remember this epic adventure, we've somehow managed to spend a grand total of £8160.
TOTALLY WORTH IT THO!
> Download Our Fancy New App For All The Latest Taylor Swift Tour News!
Whilst you're here, check out Taylor's most recent music video for her song 'Delicate'...