Taylor Swift Loved Introducing Ed Sheeran To Nashville: "It's An Exciting Place To Live"
15 October 2013, 11:32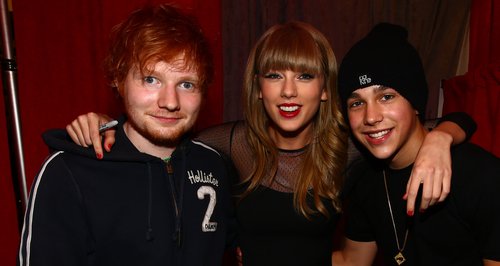 The '22' singer says getting to show Ed Sheeran the city she lives in was a great experience.
Taylor Swift says she loves that she managed to convince Ed Sheeran to move to her place of residence, Nashville, during his lengthy visit to the US this year.
The 'We Are Never Ever Getting Back Together' singer was joined on the road this year for her 'Red' tour by the UK songwriter, and managed to get the star to live in Nashville, Tennessee so he could experience the musical city for himself.
"Oh, I definitely did. Ed loves Nashville," Taylor told Associated Press, when asked about the 'Lego House' star's move. "You know, so many people live here now.
"It's really exciting because nobody who comes her doesn't like it, and it just makes me proud to live here and it makes me proud to make music here and I love it," Taylor continued. "I just love it becoming such an exciting place to live after eight years.
Taylor Swift is now hard at work on her fifth studio album, following the release of fourth outing 'Red' at the end of 2012.