"It's Public Humiliation": Taylor Swift Hits Back At People That Called Her Boy-Crazy
24 April 2015, 12:33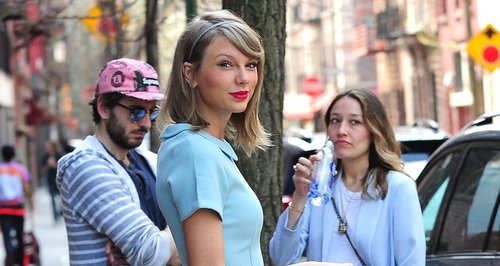 TayTay's kept her love life private since she was in the papers for dating a few guys in quick succession – and says her friends are more important than romance right now.
Taylor Swift has kept VERY tight-lipped about her love life of late – despite several highly publicised romances with the likes of Harry Styles and Taylor Lautner amongst others – and she's finally revealed the reason why.
Taylor spoke to Glamour about how she felt victimised with constant reports of her lovelife making the headlines. She revealed, "There is no easy way for me to engage with romance. I'm really busy, so I can't."
"And it's a good thing that I feel really independent and I feel that my friends are all I need. It's kind of a sad way I got there though, being shamed into it. What else is it when you have two boyfriends in one year and everyone's calling you boy crazy, making jokes about you at awards shows? That's public humiliation. And I don't think its fair."
While romance may be off the cards for now, Taylor has her strong network of girlfriends to concentrate on instead. Tay told the magazine, "I feel really lucky to have about ten friends, like Karlie [Kloss] and Lena [Dunham] and Selena [Gomez], who I can call any time of the day or night, who can at least relate in some way to what I'm going through."
"It's a circle of really strong women who I depend on. Sometimes we'll have a theme night; we'll be, like, tonight we are dressing up, we're drinking Shirley Temples and we're going to the new Ralph Lauren restaurant or we're going to be fancy. Or it will be more impromptu; one girl shows up from the gym in sweats, one girl shows up from a shoot in full hair and make-up, and one comes from work and we'll just cook together."
Can we come hang out at Swift Mansions next time, too? It sounds like a LOT of fun.