An RIP Taylor Swift Memorial Has Appeared But We Can't Stop Looking At The Confusing Mistake
20 July 2016, 11:11 | Updated: 20 July 2016, 11:19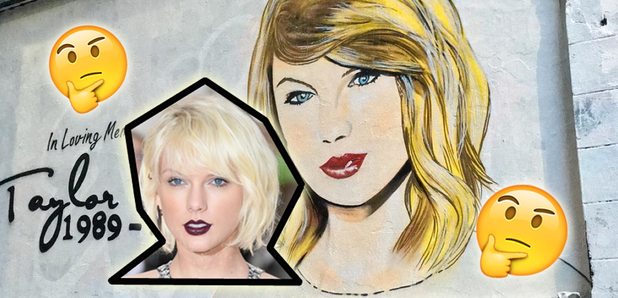 See how quickly you can spot it…
By now everyone knows about the drama surrounding Taylor Swift, Kanye West & Kim Kardashian.
But following their public head to head recently, an artist in Australia has taken the whole thing to the next level.
Clearly of the opinion that Taylor is on the losing side of this duel, Aussie street artist Lushsux has created a memorial for the 'Bad Blood' singer on a wall in Melbourne.
There's just one thing though – we can't understand why Taylor's name appears to be written as 'Taylor Smith'?
The artist behind the piece has claimed that the error is a complete accident saying "I think I just did the cursive too thick".
But we just can't see anything other than Taylor SMITH! Someone help us!
Is the typo really an accident or is it just a ploy to avoid any legal action by Taylor's team?
People have been laying flowers and lighting candles at the site of the memorial painting in a tribute to the popstar.
The artist even requested no one amend his work with the statement 'No tags please. Respect the dead' written alongside the painting.
It's not the first time Lushsux has created an artwork featuring one of our fave celebs. He also painted this amazing image of Kim Kardashian on the side of a wall too.
Fans were quick to comment on social media about the memorial.
Im not taylor swift fan but making her a death memorial is just wrong.

— lottie lou (@charleeloooo) July 20, 2016
Someone in my city did a memorial mural for Taylor Swift after "Kimye buried her" omfg I'm sorry that's funny pic.twitter.com/y4HmVNia1F

— jess | 77% potato (@rey_burkle) July 20, 2016
The Taylor Swift memorial graffiti in Hosier Lane!!! damn, thats vicious hahaha

— Lauren Ando x (@LaurenA264) July 20, 2016
But what do you make of it? Is it a bit of fun or a step too far?
You may also like…